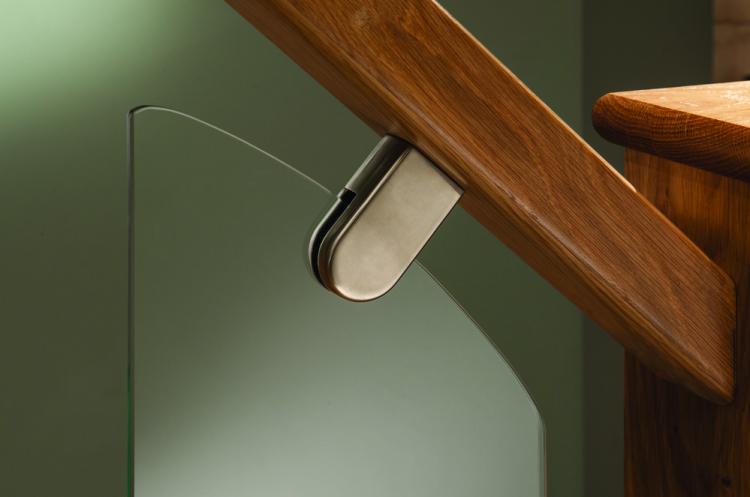 It's becoming more and more common to see glass balustrade in a variety of different commercial and domestic settings. While that are several different materials that can be used to design a striking and functional staircase, the glass balustrade has become extremely popular over the recent years because of its many benefits. Glass panels create the illusion of more space, keeps your interior looking bright and airy, is easy to clean, strong and durable and is ideal for modern interiors.
To keep the glass in place, we recommend glass clamps, as the alternative method of drilling holes into the glass can weaken the structure and make it more susceptible to shattering. Innovations in glass clamp manufacturing have made glass more widely accessible as a component of stair balustrade alongside your typical wood and metal materials. The clamps can safely and securely hold the glass into place, preventing it from sliding or wobbling.
Whether you decide to use glass specially manufactured for the ranges that we stock including Contemporary Clarity, Elements Glass and Fusion Glass, or opt for bespoke glass panels for added uniqueness, you will require quality glass clamps. All the glass clamps that we stock come with rubbers and security pins, something which is often offered as additional costs by other suppliers.
This article looks at the uses of glass clamps, the advantages of glass clamps and the products we stock here on the Blueprint Joinery website.
For more specific information or help regarding our glass clamp products, please don't hesitate to get in touch with a member of our expert sales team on 01691 671020 for further assistance.
Why use Glass Clamps?
Unlike wood or metal spindle balustrade that can be fixed directly into the handrail and/or base rail, affixing glass to a balustrade or railing system is a little more difficult. In 9 out of 10 cases, glass clamps are necessary to connect glass panels to central posts and handrails without damaging the glass. Even if you carefully and expertly drilled holes into the glass, this would still weaken the overall structure and make the glass more susceptible to shattering. Tempered glass is very robust and strong, and to keep it that way, using glass clamps are a must.
Glass Clamp styles
Most of the glass clamps that we've seen on the market and stock have a similar design both mechanically and aesthetically; an L-shaped bracket that can be screwed into the handrail and base rail, and a double-sided rubberized clamp that holds the glass panel in place. The edges of the L-shaped bracket can be square, rectangular or rounded in style, and the brackets we stock here at Blueprint can hold both 8mm or 10mm thick glass panels.
The advantages of Glass Clamps?
There are many advantages of using a glass balustrade and glass clamps, including:
Glass creates the illusion of more space. Clear glass panels are especially effective in making an area appear bigger than it really is, which is something that cannot be achieved by using wood or metal spindles.
A glass balustrade can make a living area looking bright and airy.
Tempered glass and metal glass clamps (when used together) are extremely tough and durable. There is a misconception by some that glass is easy to break; this couldn't be further from the truth. It takes extreme structural pressure to break tempered glass, the material itself and how it is manufactured makes it just as strong as steel.
Glass panels are easy to maintain and keep clean. Using glass cleaning products in conjunction with a lint-free cloth is all you'll need to keep your glass balustrade looking brand new and shiny.
Glass balustrade perfectly compliments other materials and are ideal for modern interior design.
Blueprint Joinery Glass Clamp products
We stock a variety of different glass clamps depending on the type of glass balustrade you want to install. Whether it is a specific range of glass stair, or bespoke glass panels, we stock quality glass clamps for all scenarios.
Elements Glass Clamps
Elements with Glass combines the old with the new by combining contemporary glass panels and chrome or brushed nickel brackets along with more traditional looking oak handrails, base rails and newel posts. Elements with Glass is both quick and straightforward to install on your staircases using easy fit brackets. The contemporary glass panels are manufactured using toughened glass and are 8mm thick.
These clamps are designed to fit a flat surface such as handrail, base rail or stair newel post. Choose between Chrome and Brushed Nickel metal finishes, and whether you want the clamps to hold 8mm or 10mm glass panels. This range comes in packs of 2.
This range of glass clamp come with rubber gaskets that grip the glass between the two-part clamp and a glass secure pin that fits through pre-drilled glass panels.
Contemporary Clarity Glass Bracket
The Clarity Glass Clamp offers incredibly stylish finishing touches when teamed with Clarity glass panels. Available in Chrome or Brushed Nickel finishes, packs of 2 and 8.
The metal fixings enable parts to be easily connected for simple construction and several different newel posts are available that can further enhance this already striking and contemporary look.
Clarity glass balustrades shine as the perfect centrepiece to a room, as well as being able to blend into the background to allow other materials to take centre stage. Boasting polished edges, curved glass and simple brackets this very popular glass balustrade range is blessed with a versatility that ensures these stair parts add extra sparkle to any home.
Clarity glass balustrades cast shadows and hold reflections as individual as you are – see and be seen with every step you take.
Blueprint Joinery Glass Clamps
Again, these clamps are designed to fit a flat surface such as handrail, base rail or stair newel post. Choose between Chrome and Brushed Nickel metal finishes, and whether you want the clamps to hold 8mm or 10mm glass panels. This range comes in packs of 2. These glass clamps are perfect for bespoke, custom-made glass.
For more specific information or help regarding our glass clamp products, please don't hesitate to get in touch with a member of our expert sales team on 01691 671020 for further assistance