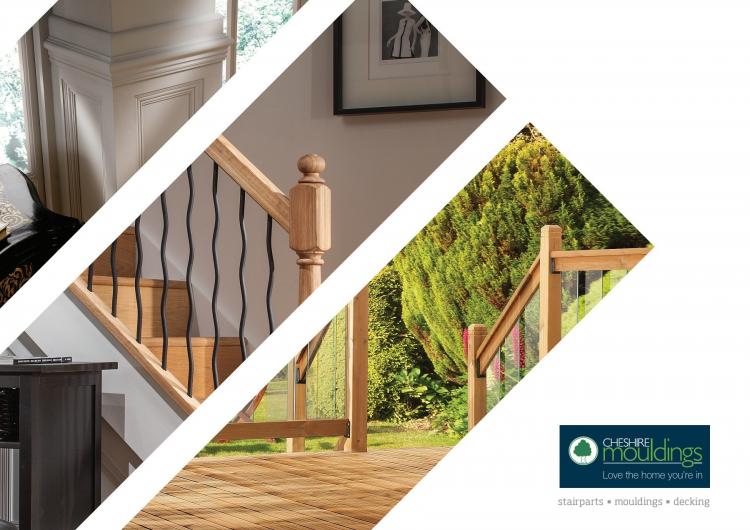 As a Cheshire Mouldings trusted stockist and supplier, we pride ourselves in selling an extensive range of stair balustrade, decking systems, interior doors and floors all manufactured using only the best materials. This article – a manufacturers spotlight so to speak – takes a look at Cheshire Mouldings, how they started, and how they've gone on to achieve and be recognised as one of the 1,000 Companies to Inspire Britain for 2019 (the fourth time receiving this award).
Who Started Cheshire Mouldings?
Cheshire Mouldings was founded in 1988 in Warrington Bewsey Road by the Carney family. Situated in the middle of J & J Fencing Builder's Merchants, they started off supplying stair parts to builders merchants and joinery manufacturers.
"The Carney family founded the company with a simple idea in mind – 'To be the best'"
With continued growth year after year, Cheshire Mouldings relocated to Normans Road, Sutton in 1998 (9,000 sq ft production site), and relocated their main office and warehouse in 2016 to Abbotsfield Road, Sutton (81,000 sq ft site).
The desire to strive for excellence and quality is still at the heart of Cheshire Mouldings today. They have been successful in providing their customers and suppliers with a first-class, professional and flexible service each and every day for 30 years.
What Makes Cheshire Mouldings Special?
Cheshire Mouldings are renowned for providing a first-class service and providing outstanding quality and extensive product range.
"Our customers know that whatever they buy from Cheshire Mouldings they are going to receive a top-quality product. This confidence and trust has been built up over a number of years and is very important to us"
As a Cheshire Mouldings stockist, it is great knowing the importance they hold on regularly updating and introducing new product ranges. This not only keeps things fresh and innovative for the customer but also ensures they stay ahead of the competition.
Their Experience
With over 30 years leading the way in fittings and fixtures, Cheshire Mouldings have gained a massive amount of experience along the way. They have supplied small independent businesses as well as national retail giants for many years; and built some great relationships and had many happy customers.
As stated on their website, they have achieved and are certified against all main Forest Certification Standards. This includes the Forest Stewardship Council (FSC) and the Program for the Endorsement of Forest Certification Schemes (PEFC).
"Cheshire Mouldings believe that wood is one of the earth's most important renewable resources. Forests are the foundation for life itself – stewarding our climate, protecting our soil, and providing the air that we breathe. We are committed to supporting the responsible management of the world's forests by promoting the trade in timber and timber products from well-managed forests"
With society's ever-evolving understanding and expectation on the importance of how we treat the world, we are proud to be part of a sustainable project here at Blueprint Joinery.
Cheshire Mouldings Future Goals
"As we move forward Cheshire Mouldings will maintain the same goal it has had since day one: to be the best. This has, and will always be our goal. It's what drives us to be better. To do more. And to work harder"
In order to achieve this, they are focused on maintaining the fantastic service, choice and value that has made them famous. It is clear to see that they are always looking to improve wherever they can and this is driven by the unrelenting desire to maintain their position at the forefront of the industry. For more information on Cheshire Mouldings, please visit their website.
Below is a selection of products we stock which is part of Cheshire Mouldings quality range of Interior Engineered Oak Doors: