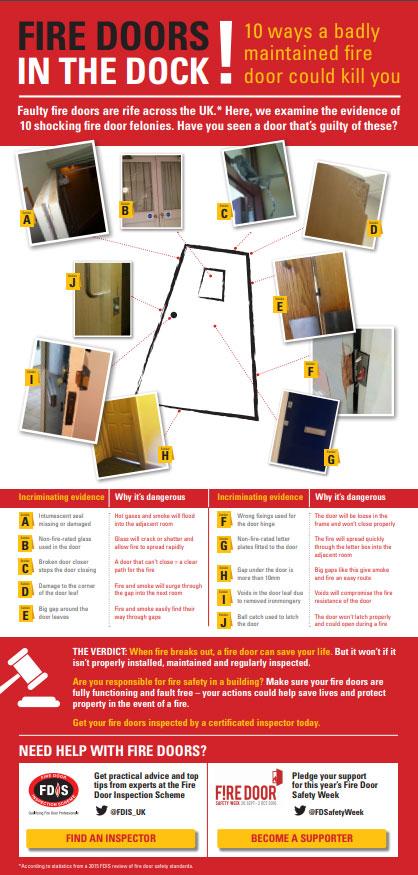 A new infographic produced by the Fire Door Inspection Scheme (FDIS) warn landlords, building owners and tenants of 10 common fire door faults, as photographed by FDIS certificated inspectors. An FDIS survey conducted in 2015 found that many fire doors across the UK suffer from severe defects: 61% of doors had problems with fire or smoke seals, while almost 1 in 6 had significant damage to the door leaf.
| | | |
| --- | --- | --- |
| Image Letter | Incriminating Evidence | Why It's Dangerous |
| A | Intumescent seal missing or damaged | Hot gases and smoke will flood into the adjacent room |
| B | Non-fire-rated glass used in the door | Glass will crack or shatter and allow the fire to spread rapidly |
| C | Broken door closer stops the door closing | A internal fire door that can't close = a clear path for the fire |
| D | Damage to the corner of the door leaf | Fire and smoke will surge through the gap into the next room |
| E | Big gap around the door leaves | Fire and smoke easily find their way through gaps |
| F | Wrong fixings used for the door hinge | The internal fire door will be loose in the frame and won't close properly |
| G | Non-fire-rated letter plates fitted to the door | The fire will spread quickly through the letterbox into the adjacent room |
| H | Gap under the door is more than 10mm | Big gaps like this give smoke and fire an easy route |
| I | Voids in the door leaf due to removed ironmongery | Voids will compromise the fire resistance of the door |
| J | Ball catch used to latch the door | The internal fire door won't latch properly and could open during a fire |
For more specific information or help regarding our internal fire door products, please don't hesitate to get in touch with a member of our expert sales team on 01691 671020 for further assistance.