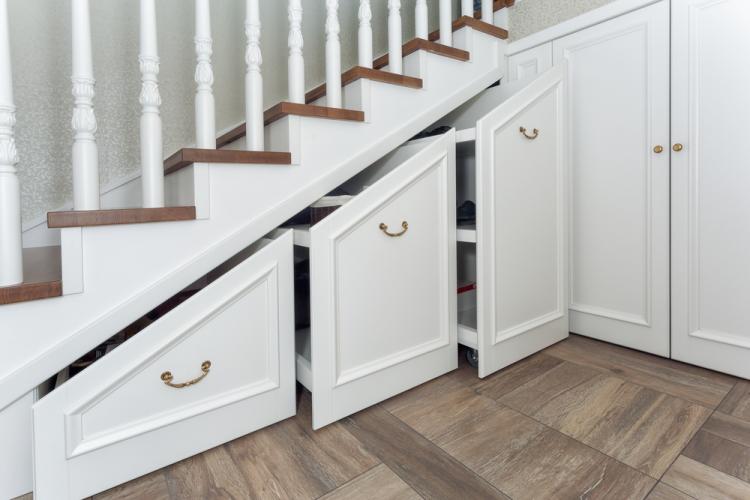 The space under the stairs is one of the most underused and underappreciated areas of the home. However, there is no reason not to utilise this area and make the most of the available space in order to ensure that you are using every available aspect of your home to its full capacity.
Staircase parts are the key to a stunning staircase, but it is easy to overlook the space under the stairs when redecorating or redesigning your home. Whether they are in the hallway, the living room or another area of the house, it is highly likely that your stairs will be one of the main focal points of your home. But with this in mind, how much attention do you pay to your understairs space?
Those with open stairways that aren't boxed-in often fail to make the most of this space – an area which can be especially vital for creating additional space in smaller homes. Say goodbye to musty, cobwebby cupboards or the dumping ground of old appliances and general household paraphernalia, and instead, refresh the feel of the space with a brand new look to your understair space.
Storage
Storage space is the most obvious idea which comes to mind when you think of the space under the stairs. However, rather than being the home of a famous boy wizard or housing dingy cupboards filled with junk, there are plenty of other innovative storage solutions you can choose. Try a smart storage solution to easily tuck away coats, shoes, bags and all the other general hallway clutter, enabling your entrance way to stay clean and tidy.
Pet Hidey Hole
Sometimes pets just need some alone time – and what better place for this than in the depths of your understairs space? Turn the unused space into a welcoming haven for your pets – an inviting den for a cat or a safe place to sleep for your pooch.
Reading Nook
Too many books and not enough bookcases? Turn your understairs space into a custom reading nook by lining the walls with shelves which you can then fill with all your favourite books, DVDs, CDs and more. Alternatively, you could also choose to incorporate a comfy bench to enable you to get some peace and quiet away from the hustle and bustle of the rest of the house.
Pantry
For houses with small kitchens, food storage can be an issue, especially if you need to keep enough food to feed a family! Overcome this by transforming your understairs space into a makeshift pantry – simply include cupboards or shelves upon which you can easily store all the tins, cans, packets and boxes that you need.
Children's Play Area
Finding a suitable place for little ones to play can be tricky. To overcome the issue, why not turn your understairs space into a play area for the children? Add in soft cushions or bean bags and storage cubes to house all their toys in order to really make the most of the available space.
Update the look of your staircase and understairs space with top-quality staircase parts and an innovative home design or décor idea. For more information about our range of staircase parts, please get in touch with us today.