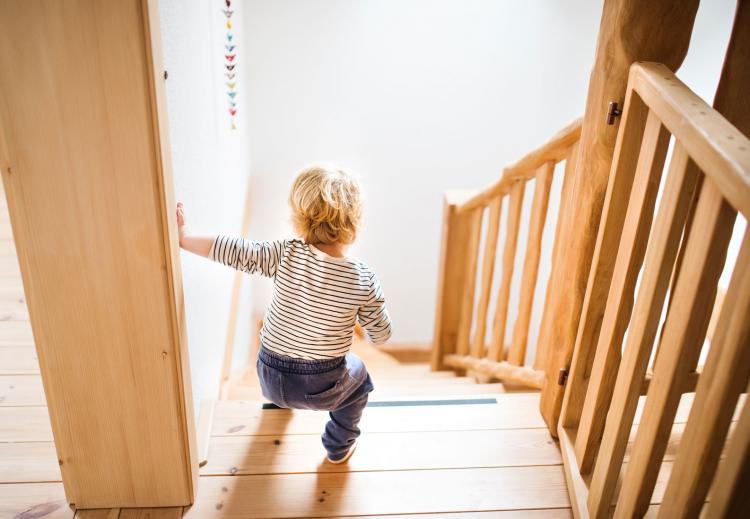 The arrival of your little bundle of joy could be more of a blessing in disguise. Before you know it, several months will pass, and then soon after, they will start to crawl, curiously familiarising themselves with their new, surrounding environment. The crawling phase poses an array of challenges for most families, one of which being safety.
Among the most dangerous places in a home for a baby are the stairs. A slight slip or fall could result in severe injury for your toddler. So, how do you ensure your child doesn't fall victim to stair-related injuries? This articles contains 5 ways that will help assist you and your family in baby proofing your staircase.
1. Use stair gates at the top and bottom of your staircase
Stair gates are the most common method of baby proofing your staircase. They restrict your child's access to the stairs, thus keeping them safe. Unfortunately, not all gates offer a snug fit so it's really important to find the right one to fit. Modern staircase designs complicate the use of stair gates, thus prompting homeowners to look for customised models. One could also opt for an adjustable gate to make the stairs completely inaccessible for their infant.
Installing a stair gate calls for the utmost care. One should carefully go through the mounting instructions to avoid making crucial mistakes which could effect the functionality and safety of the stair gate. Most gates come with their mounting hardware so you won't incur the extra cost of purchasing them separately. After installation, carefully inspect the gate for any exposed nails or sharp objects. You should also keep the gate closed at all times.
There are various stair gates perfect for different stair designs. For instance, expandable stair gates boast a compact design ideal for use inside door frames. However, they may not work for all homes since door frames differ in size and design. There are also 3-in-1 baby gates, which boast a versatile design for ultimate safety. They are slightly more expensive than the simple expandable gates but are worth the extra cost. These gates boast a condensing and extending functionality making them perfect for all homes.
2. Add carpet your staircase to make it less slippy
After the crawling stage, your child slowly starts learning how to walk. Wood can be particularly slippery for older babies and carpet will cushion any falls.
It is important that the carpet is frequently inspected and all damaged areas repaired.
3. Clear clutter off the stairs
Books, toys, and clothing on the stair tread are a potential hazard. These items could result in serious injuries once tripped over. In fact, they aren't just dangerous to your child but also to you as a parent. To keep your infant safe, remove any items that you might be storing on the stairs; keep your stairs clear and free of clutter to avoid accidents.
4. Light up your staircase
A less visible staircase due to very little lighting can lead to trips and falls. Keeping the stairs lit offers adequate visibility, thus ensuring that your child doesn't miss a step ascending or descending.
5. Always inspect your staircase
Frequently checking the staircase is important. Ensure that handrails, spindles and newels are firmly secure, and there are no broken treads or exposed nails.
As your child starts crawling and eventually learns how to walk, they often exhibit an uncontrollable urge to explore different places around the house. In most cases, they want to try out those dangerous places which expose them to the risk of sustaining serious injuries. Amongst these dangerous places is the staircase. These baby proofing methods guarantee safety for your child and allow them to explore their environment without being exposed to the risk of getting injured.