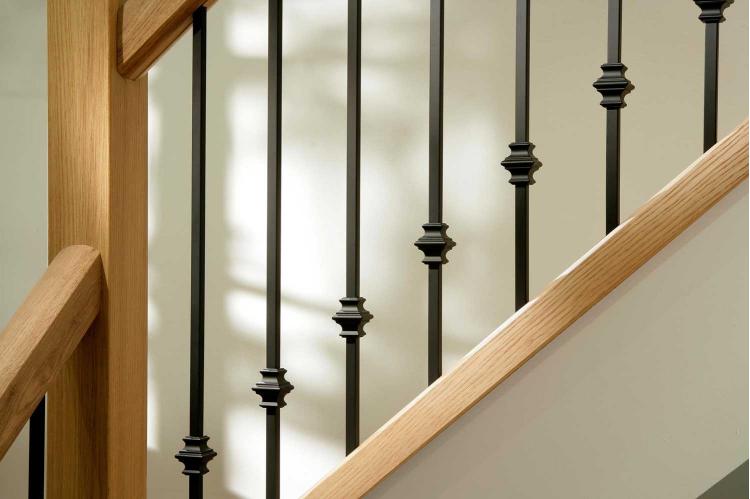 Metal Stair Spindles have been really popular in 2022, this article takes a look at why. A staircase occupies the most prominent position in a house and perceived by many as the main focal point of a home. With this in mind, selecting the right stair spindles - and other balustrade components - are of great importance.
If you are searching for something affordable which looks great, is safe for all the family and requires very little in terms of maintenance, metal spindles are an excellent option. Gone are the days where you would see metal spindles purely in an industrial setting; they are gaining much popularity in stair renovation projects also. Why are they so popular?
1 - Metal Stair Spindles Look Great in a Variety of Unique Designs
If you want the focal point in your home packed full of character and quirkiness, metal stairway spindles are a perfect take on a rustic and traditional feature that will fit nicely in both a contemporary and traditional setting. They can take on a simple design such as square or rounded, or a more ornately curving design such as Elements Black Iron. They can be mixed with glass or even timber to create that real wow factor. Whether you want soft and elegant or square and hard-edged, metal should always be your material of choice for spindles stairs.
2 - They Are Tough and Will Last for Years
They are built to last. Unlike timber stair parts, they are not vulnerable to changes in the environment and will not bend nor warp like other staircase spindle. Metal is tough, durable, and will last for years which makes it a great long-term investment and cost-effective option if you are in the stair renovation market.
3 - Easy To Install and Versatile
In particular, the Black Iron Balustrade system has been designed to give a modern look to your staircase without the need of fussy connecting brackets. The iron spindles slot into the pre-grooved handrail and base rail and are then secured using a bed of silicon that sits between the solid oak fillet strips supplied. This system can be used with any newel post in any timber - new or existing - allowing you to mix oak rails with white painted posts for example.
Leaving your existing newel posts in place makes the job quick and easy, refreshing your staircase in a matter of hours. With a reduced installation time means reduced costs, sounds good right?
If you are planning to use an existing handrail and base rail, please take a quick look at the below video for some helpful tips and guidance:
4 - Low Maintenance
Metal will always win over other materials when it comes to maintenance and upkeep. If painted correctly, your spindles will not rust or fade.
When it comes to buying and installing metal spindles or any other stair balustrade component, it is important to consider building regulations. You should always ensure any structural additions to your property meets all the current regulation for safety and to avoid having to make costly changes later on in your project. For further guidance and more in-depth regulatory help, please see Approved Document K (available from www.planningportal.co.uk) or get in contact with a local building inspector. You can find below some common regulation points (for domestic staircases only):
Staircases should have a maximum rise of 220mm, minimum going of 220mm, and a maximum pitch of 42°. These measurements are for domestic staircases only. If the staircase in question comes under the category utility or general access, these will be different.
Staircase steps should all be level.
If your staircase is less than one metre wide, you will need at least one handrail. Any flights over one metre will need a handrail installed on both sides.
Handrails on stairs and landings should have a minimum height of 900mm
Stair Spindles of any kind should be no further than 100mm apart
You are required to have a minimum of 2,000mm of clear headroom above the pitch line.
How Much Do Iron Balusters Cost?
If we use a 1800mm Handrail and Base Rail as an example, you will need 14 x Iron Spindles, 1 x pre-drilled Handrail and 1 x Base Rail. This will cost £260.00 using today's prices (as of 16/03/2022). This does not include Newel Posts or landing sections.
If you are unsure what you need in terms of items, please contact a member of our team today who will be able to help you further.
How Do You Work Out Amount of Iron Stair Spindles Needed?
The amount of stair spindles needed will depend on whether you are measuring for the rake or landing areas:
Black Iron Rake Spindles - You need to measure your Handrail length between Newel Posts in mm, take away 125mm and then divide by 125
Black Iron Landing Spindles - You need to measure your Handrail length between Newel Posts in mm, take away 90mm and divide the length by 90mm.
For more information on our metal stair balustrade, please check out our metal and glass balustrade category area here on the Blueprint Joinery website. You can find some of our latest styles below:
Contemporary Round Black Iron
Similar to Contemporary Square, Contemporary Round Black Iron Spindles balance the timeless luxury of classic materials such as oak and iron with versatile modern designs to fit any home. We stock two styles in this range; straight and wavy. You can see examples of both styles above. For more information on this range, click here.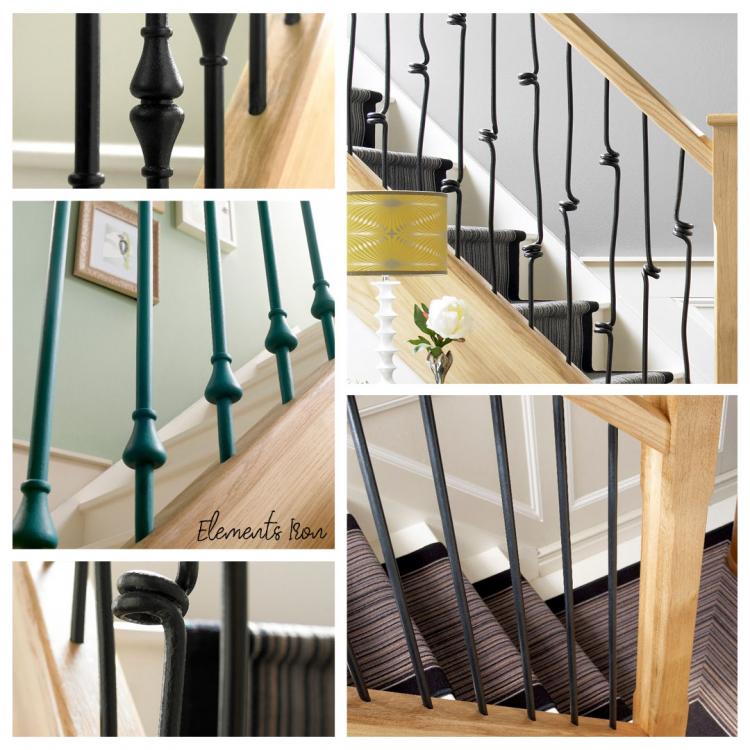 Elements Black Iron
If you are looking for a mixture of old and new, then the Richard Burbidge Elements with Black Iron Balustrade range is for you. Combining White Oak Handrails, Base Rails and Newel Posts with Black Iron Metal Stair Spindles, Elements has the best of both worlds for those looking for a unique look.
The Black Iron Spindles themselves are supplied in packs of 3 and are available in a choice of 6 designs ranging from plain to rather ornate.
Contemporary Solo
The Solo range is one of a kind. The clean lines in this collection draw your eye to beautiful metallic detail which is available in either chrome or nickel. All of the stair parts included in this collection can be integrated with other Blueprint Joinery stair parts for a look that blends contemporary and traditional styles to deliver a truly unique finish.
For more information on all the metal stair spindles we sell, please check out our metal and glass balustrade category area here on the Blueprint Joinery website. If you require additional help or would like someone to assist you in planning your stair renovation, please get in touch either by email (info@blueprintjoinery.co.uk) or by telephone (01691 671 020).