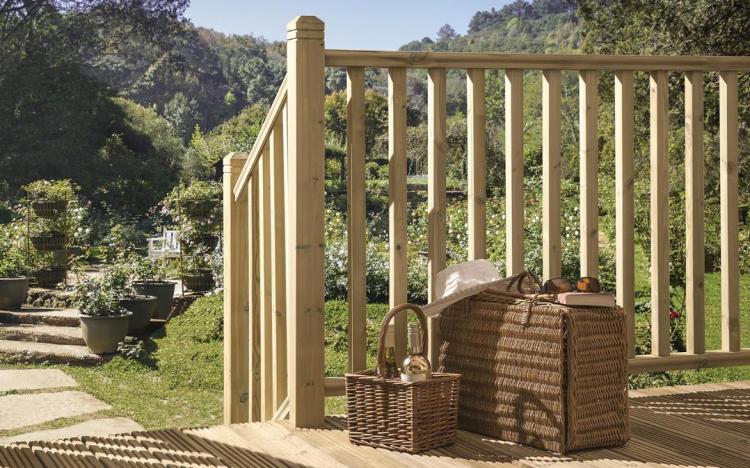 Spacing decking spindles can be difficult task when planning a new deck renovation. It is important that the spacing is correct in order to ensure, 1) a safe and secure balustrade, and 2) that your balustrade adheres to the latest building regulations. Very much the same as stair spindles, building regulations state that a 100mm sphere cannot pass through any opening on the decking including spaces between the spindles. This means that the maximum space between the spindles can be 99mm or less. Fixing spindles too far apart can also reduce stability, and fixing spindles too close together generally will not look right. With all the above in mind, there is a simple set of calculations that you can use to ensure that your decking spindle spacing is even, aesthetically pleasing and well installed:
Deck Spindle Spacing – The Formula
First things first, using a tape measure, take an inside measurement across from newel post to newel post.
The amount of decking spindles you will need will depend on the size of the spindles you are installing. The three most common sizes of balusters and the calculations for each, are:
If you are using 41mm decking spindles - divide the above measurement by 121
35mm spindles - divide the measurement by 115
32mm spindles - divide the measurement by 112.
Top tip: To space your spindles evenly, cut them to length and put them all in one end of the balustrade tight up against one another. Measure the remaining space and divide it by the number of spaces (one more than the number of spindles).
Using the above simple calculations will result in the perfect deck spindle spacing. If you are unsure, please don't hesitate to contact us either by email info@blueprintjoinery.co.uk or phone (01691) 671020. A member of our team will be more than happy to help you plan your decking renovation including what products you will need and a quote.