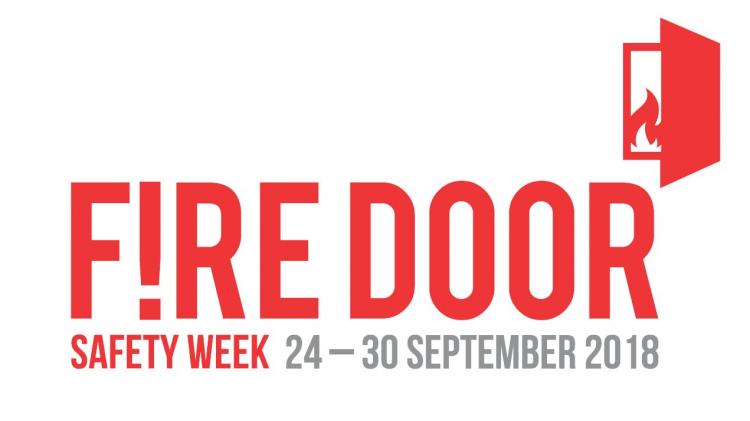 Blueprint Joinery are proud to support this year's Fire Door Safety Week (24th September – 30th September). The theme for this year is 'Fire Door Five: Shutting the door on fire and smoke' which aims to raise awareness about the critical role of fire doors and educate building owners and users on how to use fire doors correctly. Now in its sixth year, this years campaign looks to be the most supported so far, and draws attention particularly in the importance of correctly fitted and accredited fire doors, the dangers of smoke inhalation and the role that correctly installed fire doors have on preventing the spread of both fire and smoke.
Approximately 3 million new fire doors are purchased and installed every year in the UK. But to save lives, fire doors must work correctly. It's important that they are fitted and maintained by somebody that is competent, used in conjunction with the correct components, and never propped open as that then defeats the doors purpose in the awful event that a fire does happen.
As part of Fire Door Safety Week, Blueprint debunk the most common fire door myths:
10 Fire Door Myths
1 - Larger doorstops and mouldings can be added to an existing frame to make a standard door a fire door
Additional doorstops do not turn a standard door into a fire door. Fire doors are typically much thicker than standard doors, and require all items to meet the specification stated on the fire door certificate.
2 - Painting a standard door with fire retardant paint makes it a fire door
As far as the BWF Certifire certification is concerned, they would not class a painted standard door as a fire door. A fire door is made up of many compatible and fire tested materials and components, all listed on the fire door certificate. A lick of paint will not turn a standard door into a fire door.
3 - You can cut a fire door down to size if its too large for the door opening
A fire door can be trimmed down to size, but only by the amount specified in the manufacturers fitting instructions and fire door certificate. Resizing a fire door outside the specified amount will invalidate the fire door certificate.
4 - Any old lock can be fitted to a fire door as long as it's made of metal
Initial fire door tests are made using a complete fire door set. This includes the fire door, door frame and all the requisite hardware such as locks, latches, hinges etc. It is therefore important that you fit a fire tested lock as listed on the fire door certificate; everything else may impact the doors performance in a fire.
5 - The gap between the fire door and frame is not important
The dimension of the gap around the entire perimeter of the door is critical in preventing the passage of toxic fumes and smoke in the event of a fire. On a fire door with smoke seals this gap is typically 3mm. Always check the fitting instructions or the fire door certificate for the exact measurement.
6 - You can fit your own glazed panels in a fire door just like a standard door
A number of fire proof components are required to manufacture a glazed fire door. It's important that you leave this to the experts who are licensed and trained in making fire doors. Cutting holes in a fire door will subsequently invalidate the fire door certification.
7 - The hinge packers are not needed, they can be thrown away
The hinge packers are intumescent pads that help protect the metal hinge from heat in a fire. Like previously stated, initial fire door tests are made using a complete fire door set. Not fitting the intumescent pads could effect the performance of the door in a fire.
8 - Bigger door stops can be used instead of
intumescent strips
A fire door always needs intumescent strips either in the frame or around the door edges to ensure its performance in the event of a fire. An intumescent strip or seal is a piece of material fitted around the fire door that expands when its exposed to hit, closing gaps which helps prevent fire and smoke spread. A door stop is not an adequate replacement.
9 - Fire doors have to be assessed by the fire service. I'm just the landlord, so I don't need to know any of that stuff
If it's your own home (domestic property), the fire service usually offer free fire safety checks depending on the area that you live in. If on the other hand you're reading this article and referring to a commercial or industrial premises, it is the owner of the property or responsible person's duty to carry out a fire risk assessment as part of the Fire Safety Order. If you do not have the knowledge or skills, you must appoint a 'competent person' to carry this out for you.
10 - I've got a fire risk assessment so I'm protected and can't be prosecuted
Having a fire risk assessment does not make you fully compliant. It just acts as a method to identify and quantify risk. Have a question about fire door law? Visit the Fire Door Inspection Scheme website for more information.
Fire Door Do's and Don'ts
Do's
Buy your fire doors, frames and components from a certified company. All the fire doors we stock here at Blueprint Joinery are rated FD30 (meaning they will last 30 minutes subjected to a fire)

Check the certificate matches the door

Install and maintain fire doors using somebody competent

Make sure that ironmongery components are CE marked.
Don'ts
Fit a fire door like a standard door

Cut vision panels and other holes into the door

Patch up a fire door

Take risks by reducing the specification

Prop or wedge open a fire door.
For more specific information or help regarding our internal fire door products, please don't hesitate to get in touch with a member of our expert sales team on 01691 671020 for further assistance.