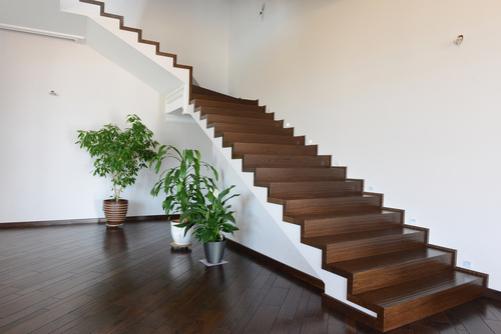 Unless it has been carefully designed or you are a DIY enthusiast, you probably haven't given your staircase that much thought. However, your staircase has its very own history. The design and the reason it was selected may be very interesting, so next time you head up or down the stairs, take a bit more notice than usual and see if you can really get to know the area of your home that is so often seen as a practical solution rather than a stunning feature.
Spiral Staircases
This type of staircase style has been around since Greco-Roman times but modern designs have brought a much more contemporary feel into homes. As to the history of the spiral staircase design, what is thought to be the oldest spiral staircase in the world is situated in Rome within Trajan's Column. Spiral staircases were originally designed to enable people to quickly climb floors using up a small amount of space, compared to standard design staircases. You generally find most spiral staircases are circular but you do also get square ones.
Staircase Spindles
Spindles can bring elaborate detail to your staircase with the various patterns and designs that are available. In effect, spindles are there to provide stability for people using staircases, so they can hold onto the railing to prevent them from falling. However, there is much more to spindles than security. They offer decorative designs that can be the difference between a plain staircase and one of elegance.
Spindles can be made of wood or metal or even stone! Wood is the most common material, particularly in the UK, due to the availability of the material and the traditional use of wood in home design. There are many different designs including both traditional and contemporary styles. Generally, the cost can go from very low for lower quality wood and minimal design to a much larger budget where stunning hand-carved artwork is used.
Shapes
L-shaped staircases are prominent in modern homes, or quarter-turn stairs as they are sometimes called. Where a 90-degree angle change is required, the quarter-turn stairs are the solution. There are also situations which call for half-turn stairs (or U-shaped) to provide a 180-degree change of stair direction. The standard set of stairs which leads straight upwards without any change of direction is known as straight stairs. So, now you can go and take a look at yours and understand the type of staircase design that you have in a little bit more detail.
For more information about any of our staircase spindles, products or services, please don't hesitate to get in touch with a member of our team today.