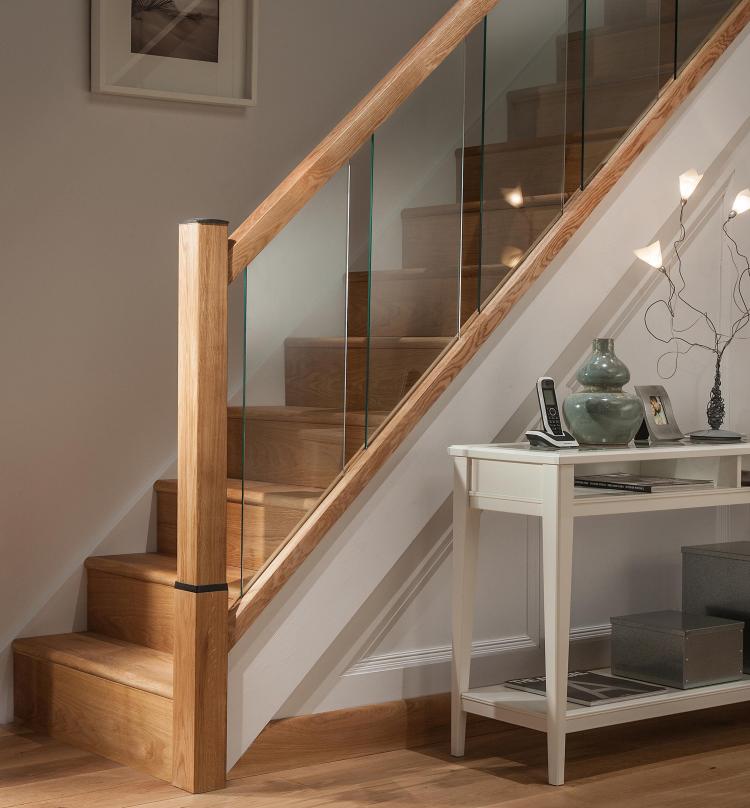 If there are parts of your home that are a little tight on space, then you aren't alone. Up and down the country there are people just like you, looking to make their homes feel lighter, brighter, more spacious and stylish.
For many, the main access route to the upper part of your home – the staircase, is often taking up valuable living space in your sitting room, which can make your home feel smaller than it should. If you are looking to open up your home, then we have some top tips for creating the illusion of space with just a few staircase parts and some clever decorating tricks.
Use Reflections to create a sense of space in your home. Our glass balustrade panels for your staircase make a room feel much more spacious than traditional spindles
Similarly, use a mirror to reflect light around the room, especially if reflecting natural light
Decorate using lighter colours, with a few statement accents of colour to create interest in the décor, not the space
Pull furniture away from walls to give a sense of more room
Use lamps instead of harsh, overhead lighting to create a feeling of more depth in the room
Glass and opaque ornaments and furniture in the room are not only stylish but appear to take up less space, too. Not sure it would work with your interior design and existing furniture? We have glass staircase parts that will do the trick nicely
Make use of natural light and have light coloured curtains where possible. Keep them open to really open up the room
De-clutter. Don't cram things into every available space, leave room for the mind to see visible space
You don't need to go minimalist to create space. Having less bulky items of furniture and sofas that have legs and room underneath will all create the impression of a bigger room
Making the most of the space you have is so important in any home, so it pays to follow these décor hints and tips; to really give your home a bit of breathing room.
While redecorating and buying new furniture isn't always practical, one of the easiest ways is by making use of Reflections glass staircase parts; the simple balustrade is less intrusive than wooden spindles and makes your stairs blend into the background, giving the impression of a bigger room and house.
If you're ready to open up your home to new ideas and make your rooms feel more spacious, then look no further. Please call our team on 01691 671020 for more information on the Reflections range.