Your staircase plays an important role in your home - both as a design statement and a way to move from floor to floor. An outdated or shabby looking staircase can make for a poor first impression, especially when you've got visitors around. In most cases, there usually is very little (or nothing) wrong with the functionality of your staircase. With this fact in mind, it can be assumed that you are planning a stairway renovation because you want to make an aesthetic improvement to your home.
If you've got an older staircase that was constructed before modern building regulations, you might start to see loose or damaged treads, risers, spindles and handrails. We recommend that if you're having problems with your staircase and/or staircase frame in this manner, the safest course of action is to consult a local joiner, carpenter or a tradesman in the home renovation industry for their professional advice.
Assuming all is well with your staircase, transforming the look doesn't need to cost an arm and a leg. Find our useful staircase renovation tips below:
1a - DIY or use an experienced tradesman
Typically, a tradesman will install an average staircase within a few days, so expect to pay £200-£400+ for the installation work. If you're used to working with wood, renovating a balustrade - by changing the handrails, base rails, spindles and newel posts - can be undertaken as a DIY project saving you said installation costs.
Certain stair renovation kits are easier to install than others depending on the way the pieces are held together. For the least complex stair DIY solution, we recommend either our Fusion products (with its easy-to-fit connectors) or Elements (with its simple twist bracket solution).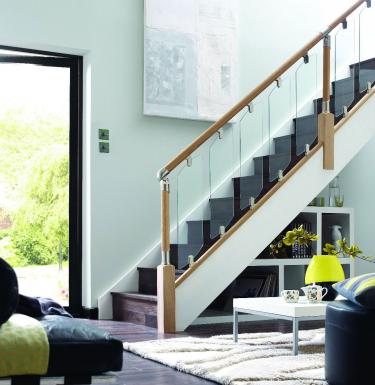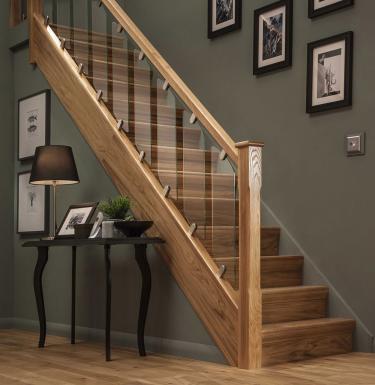 1b - How much does a glass staircase cost?
If you are looking to renovate your stairs with glass balustrade, the cost will depend on the style you choose and the amount of stair parts you require. For a free quote, please get in touch with a member of our team.
2 - Replace your handrail
Replacing stair parts is an effective way of transforming your home without major disruption and expense. Depending on the type of staircase that you're planning to update, replacing the handrail is all it might take to freshen up a tired looking staircase. The handrails we stock at Blueprint start from as low as £11.00 and can be customised with either chrome or brushed nickel rail connectors, wall brackets and end caps if desired. Find our wall mounted handrail range here.
3 - Replace worn treads and risers with oak stair clad
Are your treads and risers looking worse for wear? Stair clad might be your answer. Stair cladding is the latest innovative solution for home-owners looking to transform their staircase without the expense of buying and installing a brand new staircase entirely. Create the oak staircase look using some high-quality stair clad products and some basic DIY skills. We stock a number of different stair cladding systems, including Oak Stair Klad and Solid Oak Cladding to create that desirable and modern oak staircase effect at a fraction of the cost. Our entire range of stair cladding is designed to fit a variety of staircases; including straight flight, wider flight, mid-landing and kite winder stairs, and comes ready to blend seamlessly with existing flooring.
For help and advice about your staircase renovations, please do not hesitate to contact our customer service team and we'll be happy to provide you with a quote. Call us on 01691 671020 today.
4 - Get your paintbrush out
Give your staircase a fresh look and a new lease of life by painting treads, risers, spindles, newel posts and/or handrails. It is important that you thoroughly sand down the wood surface first to remove existing varnish or paint and then apply a stain-blocking primer to seal in any knots before applying your new paint. We recommend 2 or more coats of semi-gloss for the perfect finish.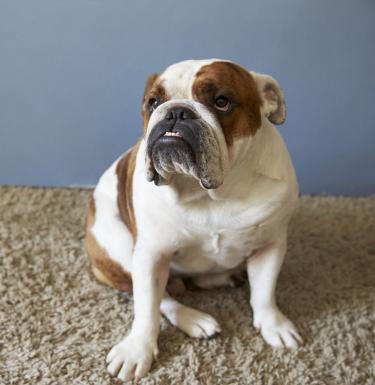 5 - Use carpet
Another option is to cover up your tired looking staircase with carpet. With a huge range of colours and styles to choose from, you can use carpet to make a striking statement that visitors will love and never forget. If your treads and risers are in great condition, fitting a runner section of carpet down the middle and then painting/varnishing the outside sections works wonderfully.
Top Tip: We recommend choosing a high-quality, hard-wearing underlay and carpet such as coir or sisal to cope with the high traffic volume that stairs are typically associated with having. Pale-colour carpets make living areas bright but make most stains hard to remove. A grey colour might be more suitable. Or use stripes to make your staircase look longer.
6 - Stair Balustrade Kits
Our Stair Balustrade Kits are a simple and effective way to update your tired looking staircase. Calculating the number of stair components can become quite a headache. Life doesn't need to be that hard, which is why at Blueprint Joinery we have compiled an all-in-one stair balustrade kit solution that contains everything you will need to update your existing stair area, stress-free. All our stair kits work out cheaper than buying parts individually, so this is a great solution for those looking to save on cost. You can find all our stair balustrade kits here.
7 - Paint your stairs
Paint can be a great way to improve the look of a tired looking staircase using only a small investment. It is important to prepare the stairs first before painting. We recommend that you do this by removing any debris, and then sanding down (using 60 or 80 grit sandpaper) the areas that you are planning to paint until the wood is clean and smooth. Make sure the paint you use is rated for floors; the higher quality the better. There is no right or wrong answer with regards to the colour you use; we found dark colours to be the best that are able to effectively conceal dirt and marks. For added durability, we recommend applying a final coat of a clear urethane.
For help and advice about your staircase renovations, please do not hesitate to contact our customer service team and we'll be happy to provide you with a quote. Call us on 01691 671020 today.