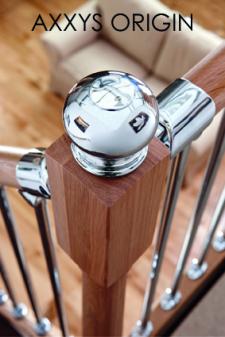 AXXYS Chrome and Oak Stair Parts sales are on the increase due to the demand of Contemporary looking Stair Balustrade Systems; however the AXXYS Origin Range still attracts a large number of customers with its contemporary spin on traditional handrail systems.
The AXXYS Origin gives an attractive half-way house between Traditional Turned Stair Parts and New Contemporary Square systems. The range offers AXXYS Turned Newel Posts in Pine, Oak, Beech or Walnut with Metal Chrome or Brushed Nickel Handrail Connectors and Ball Caps.
The AXXYS Origin Newel Posts, Handrails and Baserails all come pre-finished in a clear lacquer minimising the installation time.
The AXXYS Origin Handrail system allows you to fit different infill solutions. The Newel Posts and Hand and Base Rails fit as normal but you can alter the look by adding Metal Chrome or Brushed Nickel Spindles, Timber Spindles or AXXYS Clarity glass effect panels.
The AXXYS Clarity Chrome channels simply screw to the AXXYS Origin Hand and Base Rails and the Clarity Panels clip into place giving a you a Glass Effect Stair and Landing Balustrade.