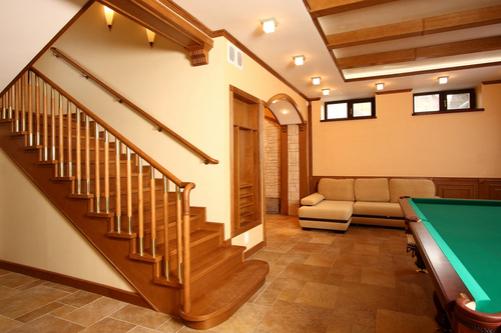 Open Space
The worst mistake that homeowners can make is to place furniture close together and leave very little room for anyone to walk through. This creates a cluttered atmosphere where it feels as though everything is on top of you.
Try and keep as much of an open space as possible, particularly in the living room. Not only will you notice the additional space, sunlight will be allowed to illuminate the entire living space, making for an all-around better home.
New Staircase Parts
Is it time to renovate a tired out old staircase in your home? If so, doing so can make all the difference to the feel of your entire home.
New staircase parts, such as cladding and spindles, can open up your hallway or anywhere else that your stairs are located. Also, by transferring from wood to glass parts, this will further help sunlight to travel throughout your home while giving the feel of a larger living space.
Outdoor Furniture
At the peak of British summer time, you don't want to waste the days away sat inside. The weather will return to its usual grey clouds and unforgiving chill before you know it, so make the most of it while it's here.
Garden furniture, such as a patio set or bench, will make for an ideal escape from sitting indoors all day. When added to beautifully installed glass decking, you can soon lose track of the time by overlooking your garden in the sun.
Repainting
Summer is the peak time for homeowners to carry out much-needed home improvements because of the improved weather. One of the most popular home DIY tasks is to paint walls, which should be re-painted every three to five years, depending on how well the coat is fairing.
The summer is the best time to paint the walls because you can air out the entire house, ventilating paint fumes which can cause some people to feel sick and disorientated. As well as this, the longer you can keep doors and windows open will help the paint to dry faster.
Gardening
Finally, the last of our recommended home improvements is to focus on the garden. The summer presents us with the opportunity to get stuck into the garden, making the most of our outside living space.
Flower beds mixed with glass decking make for an attractive garden that anyone will be proud to show off to friends and family.