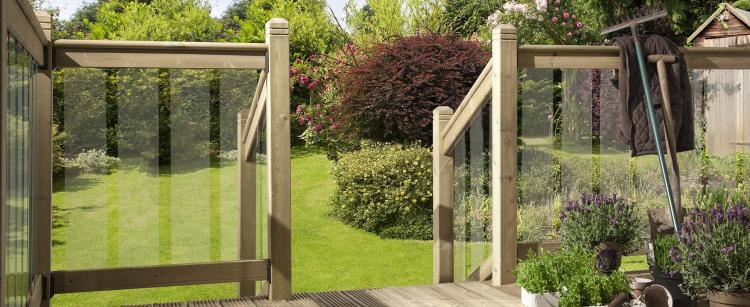 When it comes to home and garden improvements, making over your underused garden into an outdoor space you can't get enough of is all part and parcel of the renovation process. Thanks to a very popular TV show in the 90's – Ground Force (you might have heard of it?) - decking has been one of the most sought after garden features ever since.
Of course, garden trends come and go, but this one has stood the test of time and thanks to innovative ideas and developments by brands like Axxys, you can move away from the traditional fare and opt for something much more modern and contemporary in the form of Clearview glass decking.
What could be more relaxing than an al fresco dinner with your family and friends – and a clear view of your lovingly cultivated garden?
Here at Blueprint, we're pretty confident that it's going to be all the rage this summer, so we've come up with our top three reasons why you should invest in a new decking system this year.
Clearview glass decking will make your garden feel much bigger, more open and easier to enjoy.
The glass panels really create a sense of openness in your garden, bringing the nature and wildlife closer to you without it being overbearing while enjoying your dinner. Now you get to enjoy your hard work in the garden without the view being obstructed by wooden balustrading and panels.
The 8mm toughened glass panels are perfectly safe around children of all ages – even those mischievous toddlers and rowdy teenagers who won't leave that skateboard alone, and pets, too. We all know a dog that gets a little over-excited when it's playtime! The toughened glass is strong and sturdy, without hampering your view. What's more, it's really easy to clean, too.
It looks contemporary and modern, without being too "out there" – giving your garden a fresh new lease of life. It can merge seamlessly into your current aesthetic, or it can inspire you to give your entire garden a make-over. Either way, your garden will look presentable at all times!
This glass decking system is so versatile that it can be used to bring a modern edge to your garden, or it can be used to maximise views from a rooftop garden, perfectly framing the views – the possibilities are endless.
Furthermore, Clearview offers you an affordable addition to your garden that will instantly look sleek and high-end while adding value to your home.
We're predicting that Clearview Glass Decking will be a big hit with home-owners up and down the country this year, so why not make a statement and enjoy your garden the way it was intended, sooner, rather than later!
For more information, please contact our team on 01691 671020 or email us on info@blueprintjoinery.co.uk