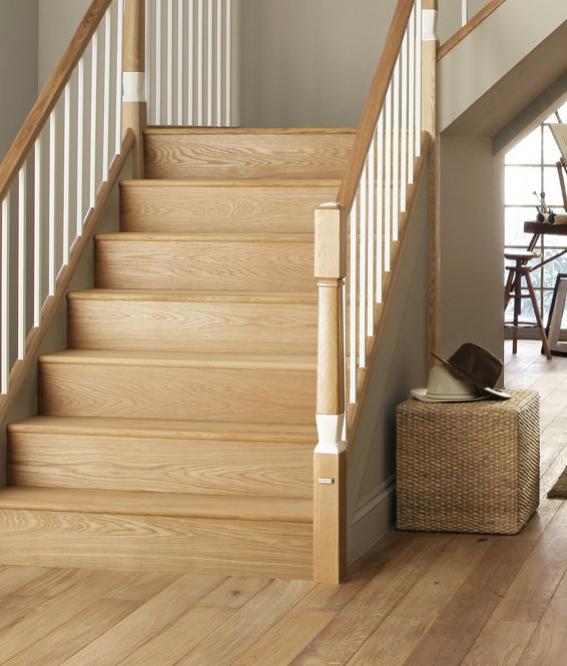 BASICS Oak Stair Cladding is designed to cover your existing softwood stairs with oak treads and risers, giving the impression of a solid oak staircase. Manufactured using the same materials as our range of white oak stair parts; this means you'll be able to refurbish your entire staircase with matching materials.
What Is Stair Cladding?
Cladding is the application of one material over another to provide a skin or layer. Stair Cladding covers the existing stairs with wooden floor planks. Made from quality oak timber, this premium Stair Cladding range is affordable, resilient, beautiful and easy to install.
Why Use Stair Cladding?
Stair Cladding is an innovative solution for home-owners looking to transform their stairs, but without the expense of buying and installing a brand new staircase entirely. It acts like a veneer that fixes over the existing oak treads and risers. It makes it easy to rejuvenate the aesthetic of your home, especially when combined with staircase spindles and other balustrade parts to match.
This entire range of Stair Cladding is designed to fit a variety of staircases; including straight flight, winder flight, mid-landing and kite winder stairs, and comes ready to blend seamlessly with existing flooring.
Where to Use BASICS Stair Cladding?
Mid Landing Situations
If you have a small mid landing area then you will need to use Extension Boards to cover your existing floor. The treads are supplied with a groove on the back edge to allow the Tongue and Groove Extension Boards to slot into them.
To calculate the number of extension boards required, measure the depth of your landing area and deduct the tread 250mm. This will leave the area to be covered by extension boards. For example:
1000mm deep landing less the tread @ 250mm = 750mm. Then divide the remaining area by 235mm (extension board) 750mm/ 235mm = 3.19
Top Tip: We would recommend rounding up to ensure full coverage. With this in mind, you will need 4 x BASICS Stair Cladding Extension Boards.
Winder Staircases
If you have a winder staircase then you can usually use BASCIS 1000mm Treads and Risers with an Extension Board at the back of the tread. However, if you have a kite winder (diamond shape) then you may have to buy the BASICS Kite Winder Stair Cladding Kit which is supplied with 1500mm Treads, Risers and Extensions Boards.
Top Landing
For the very top landing, we recommend finishing with a riser to the top and if carpet is being laid, wrap the carpet over the existing top nosing and finish against the riser. If you are laying a floor then we can supply a small Top Landing Tread machined to the thickness of your chosen flooring.
To request a free sample of our BASICS Stair Cladding please email info@blueprintjoinery.co.uk with your name and address. Please note, samples are off cuts and sometimes reject boards.
How Much Does BASICS Stair Cladding Cost?
At the time of writing (23/11/2020), we sell 1 x BASICS Oak Stair Cladding Tread and Riser 1000m Set for £40.50.
Will BASICS Be Compatible With My Existing Staircase?
To calculate the coverage of the treads, you will need to measure the distance of your existing tread nosing back to the riser underneath the tread. This measurement needs to be added to the BASICS Riser thickness (10mm) and the BASICS Tread to the riser groove (230mm). This will give you the maximum size that the BASICS Range will cover. For example:
Existing nosing protrusion = 15mm
BASICS Riser thickness = 10mm
BASICS Tread to riser groove = 230mm
Maximum coverage of the system = 15 + 10 + 230 = 255mm
Does your existing tread measures from the front of the riser to the front of the rounded nosing 255mm or less? If so, this means this system will clad your existing staircase.
Once you have calculated that the BASICS Range is suitable for your stairs, you simply cut the BASICS Treads and Risers to size and stick them in place using a Polymer Adhesive.
How to Fit Stair Cladding?
The video below demonstrates how easy it is to fit Stair Cladding with a step-by-step visual guide:
Please note: We recommend checking out the official manufacturers fitting instructions (which we provide with the product) for more in-depth and detailed fitting information.
We also stock Cheshire Mouldings StairKlad range which you can find here.
Finishing BASICS Stair Cladding
BASICS is supplied sanded ready for your chosen finish. We recommend that you apply an initial coat of your chosen finish before installation followed by a top finishing coat after installation.
If you have any questions or need advice please contact our sales office on (01691) 671020 or email info@blueprintjoinery.co.uk