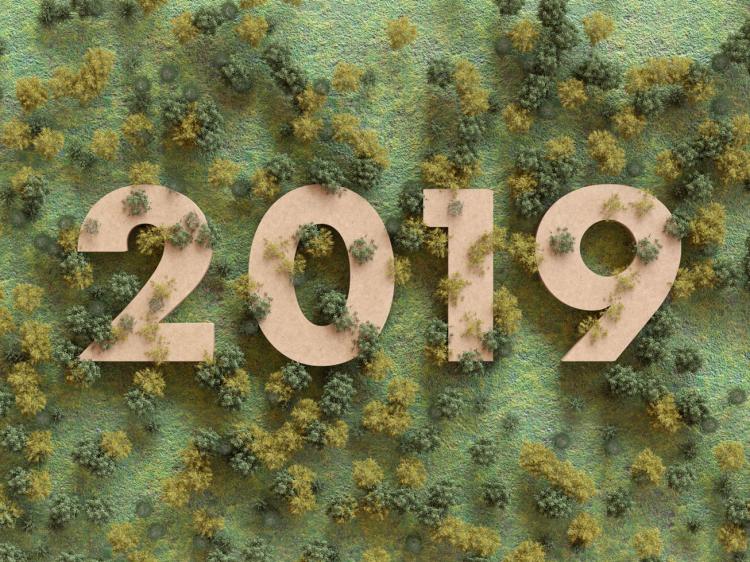 As 2019 comes to an end, and with 2020 just around the corner, we thought it would be a great idea to take a look at what Blueprint's top-selling, most popular products were this year. Among the popular products were wood stair refurbishment kits, glass balustrade, metal spindles, hand-made solid oak cottage doors and floors to name a few. In no particular order, please read on to find out more: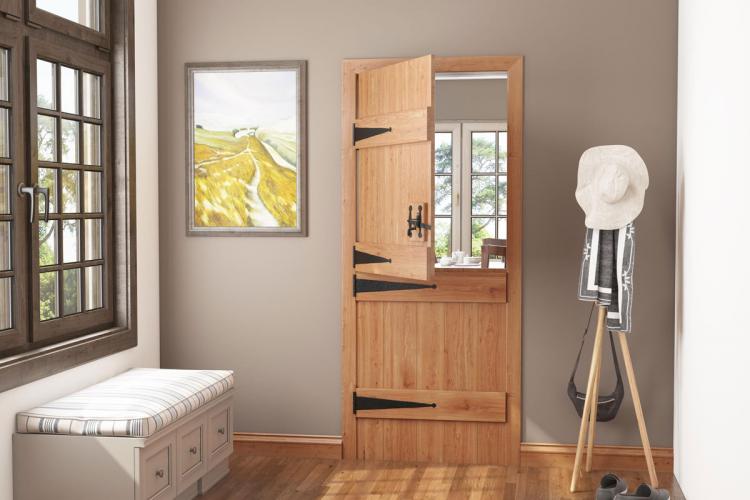 1. Solid Oak Cottage Doors
We manufacture all our hand-made Solid Oak Cottage Doors in our workshop in Oswestry, Shropshire from quality 20mm white oak timber. Our range of interior doors are the ideal solution for cottages, period properties, barn conversions and those searching for that 'country vibe'.
We offer three grades of timber – rustic grade, character grade and prime grade – and two types of profile – v-groove or bead and butt – across four different standard size doors; 78" x 24" (1981mm x 610mm), 78" x 27" (1981mm x 686mm), 78" x 30" (1981mm x 762mm) and 78" x 33" (1981mm x 838mm).
We understand that you may require interior cottage doors in odd sizes, so we offer a made to measure solid oak cottage door service where we will make them to your specification. If this is something you might be interested in, please contact us; a member of our team will be able to provide you with a free, no-obligation quote.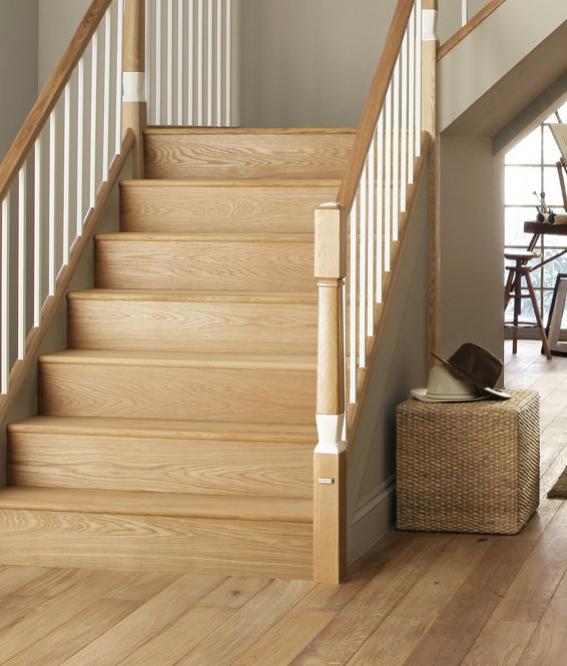 2. Oak Stair Cladding
Stair cladding is the latest innovative solution for home-owners looking to transform their stair space without the expense of buying and installing a brand new staircase entirely. We stock some different stair cladding systems, including Oak Stair Klad and Solid Oak Cladding to create that desirable and modern oak staircase effect at a fraction of the cost.
Acting like a veneer by fixing oak treads and risers to your existing staircase, you can easily rejuvenate the aesthetic of your home, especially when combined with staircase spindles and parts to match. The Oak Stair Klad range also includes a bottom bullnose step and top transition step if required.
The entire range of stair cladding is versatile and designed to fit a variety of staircases; including straight flight, winder flight, mid-landing and kite winder stairs, and comes ready to blend seamlessly with existing flooring.
For more information regarding oak stair cladding, please head over to the website product page here, or contact a member of our team who will be more than happy to answer your questions and concerns.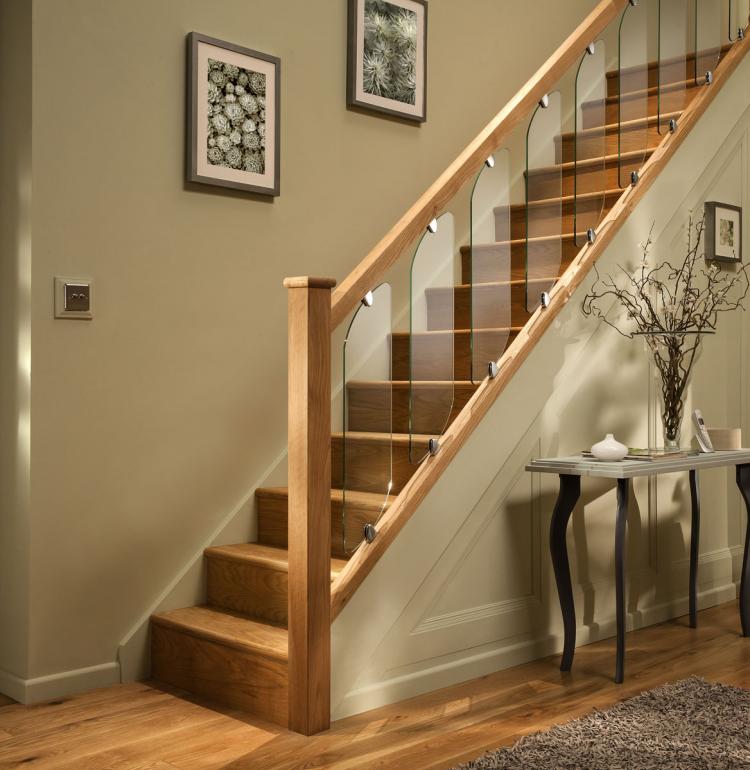 3. Contemporary Clarity Glass Balustrade
A combination of wood and glass balustrade has been a massive hit this year – in particular, the Clarity Glass range by Cheshire Mouldings.
The Clarity Glass Balustrade range combines sleek, toughened glass panels with natural oak and chrome or nickel accessories putting them right on-trend. The sculpted silhouette of each panel in the glass balustrade hints at the traditional elegance of a Georgian or Edwardian style spindle that will bring both innovative beauty and sparkle to any staircase.
Clarity glass balustrade shines as the perfect centrepiece to a room, as well as being able to blend into the background to allow other materials to take centre stage. Easy to construct and with several different newel posts available on the website that can further enhance this already striking and contemporary look, no wonder Clarity Glass is so popular.
Click here for more information on the Clarity Glass Balustrade range.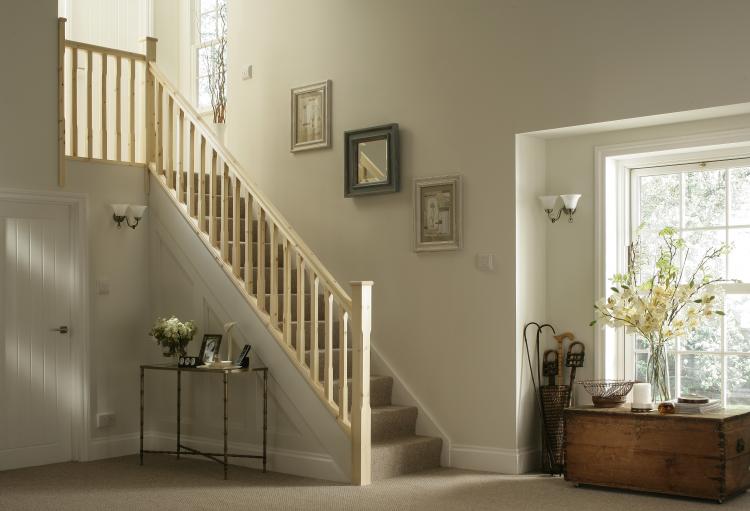 4. Stair and Landing Refurbishment Kits
With so many different products to choose from nowadays, calculating the number of components needed for your stair renovation can be overwhelming and a massive headache. Life does not need to be that difficult, which is why at Blueprint we have compiled an all-in-one stair refurbishment kit that includes everything you will need to update your existing stair space, stress-free. Not only that, but all our kits work out cheaper than buying the parts individually. We offer this option in all our wooden and glass stair ranges, so whatever style takes your fancy, we have you covered.
One of our more popular styles of wood stairs this year was the clean-cut, edgy Stop Chamfered range. This contemporary style is perfect if you are seeking that squared off, timeless look that will be sure to give your trusty old staircase the long-awaited makeover it deserves. We stock all the products you could need in this range - right down to the fitting strips and glue.
You can find more information on the Stop Chamfered stair and landing refurbishment kits we stock here.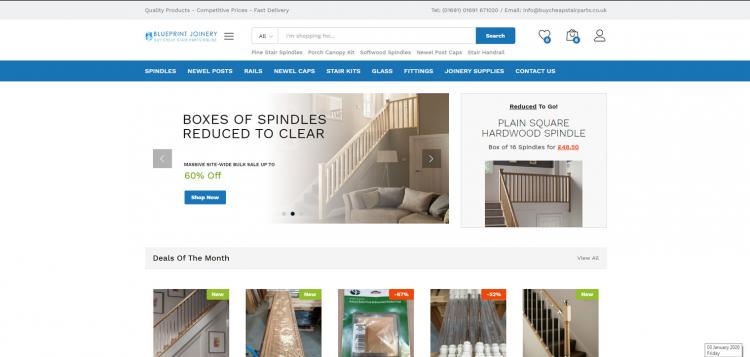 5. Clearance Stair Parts
Our clearance website boasts high-quality products at low prices - the perfect option for top-of-the-range stair balustrade and other joinery essentials - particularly on a budget. Great for updating the look of your home while saving money at the same time, you will be sure to find everything that you need for a refresh to your room here at Buy Cheap Stair Parts.
The clearance range at Buy Cheap Stair Parts is regularly updated, as clearance stock tends to sell out fast thanks to the low prices and strictly limited supply. When they are gone, they are gone, so don't delay – browse the available products and order today.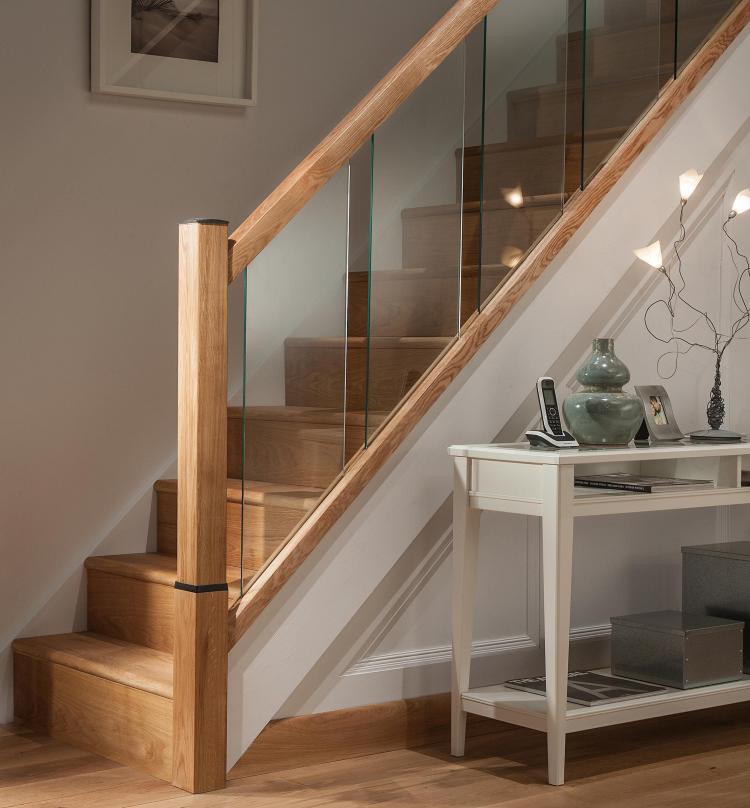 6. Reflections Glass Balustrade
We believe that our glass balustrade ranges, including Reflections Glass Balustrade and Clarity Glass Balustrade, are the future of contemporary glass staircase design.
The Reflections range of glass staircases delivers wonderful aesthetic beauty with functional toughened glass. Forget traditional wooden spindles, this beautifully engineered collection of easy to install stair parts creates real visual intrigue by casting shadows and reflections that are as unique and individual as you are.
The Reflections Glass Balustrade stair refurbishment kits were very popular this year. The kit includes the glass panels, handrail and base rail. Not included in the kit are newel posts, but we stock the Reflections Newel Post separately on our website, or you can connect the Reflections handrail to an existing flat-faced newel post.
As with all our stair parts, components are also available individually, therefore if these kits are not suitable for your stairs, please contact us, and we will be happy to work out the components needed and provide you with a quote.
For more information on Reflections Glass Balustrade, click here to be directed to the product page.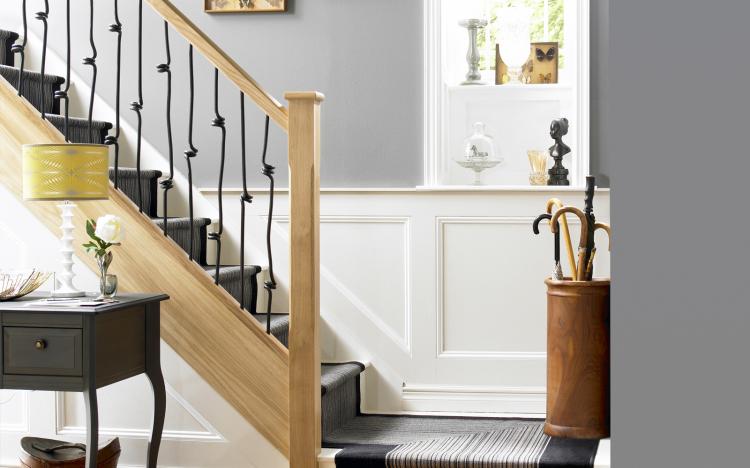 7. Iron Stair Balustrade
It is unfortunate that metal stair spindles are still seen by many as crude, cheap and a no-no in comparison to your typical wood balustrade. With advances and increased sophistication in manufacturing, metal spindles have become more intricately beautiful, but with the same resilience and strength. If you are looking for a beautiful, modern staircase, iron balustrade is among the very best. To find out more information, please be sure to check out our Metal Stair Spindles Buyers Guide.
If you want your home to be packed full of character and quirky features without renovating your entire interior space, then look no further. Here at Blueprint Joinery, we stock contemporary iron stair balustrade – square and round spindles, for a modern take on a rustic and traditional feature. Both ranges of iron balustrade come with everything you need to give your staircase a fresh new appearance.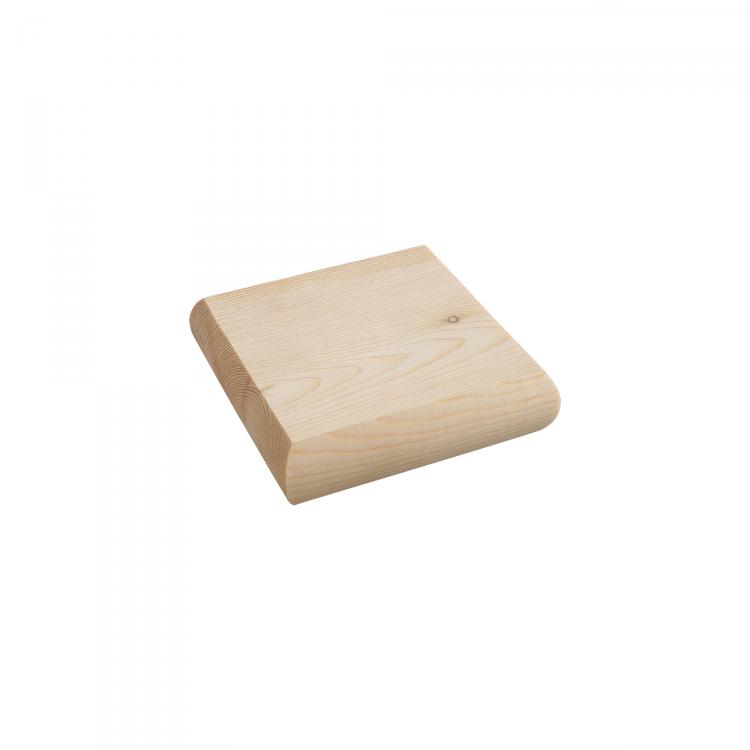 8. Wood and Metal Newel Post Caps
We stock a variety of different style newel post caps including Flat, Pyramid, Acorn, Ball, Mushroom, Provincial and Contemporary Axxys Wood and Metal Newel Post Cap.
If you are thinking of updating the look of your stairs this winter, newel post caps are a cheap and simple way to revamp the look of a new or existing staircase project. From traditional styles available in either pine or white oak timber, through to modern and contemporary metal styles, we have a newel cap for every taste and décor type.
All caps fit either an existing or brand-new newel post using PVA Wood Adhesive.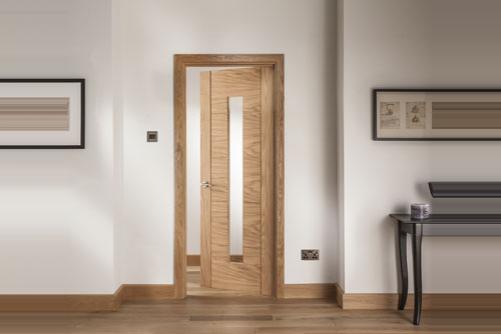 9. Engineered Oak Interior Doors
Our oak engineered interior doors were an extremely popular choice this year, and it is easy to understand why. Their high-quality finish and eye-catching grained detail make them the first choice for many people searching for traditional or designer internal doors in the UK.
Update your interior doors and give your home an added touch of class with high quality, expertly crafted Cheshire Mouldings interior doors. With designs and styles to suit every room, give your interior doors an upgrade and say hello to a smart, attractive interior space.
We stock six different door styles including a Cheshire, Modernus, Brindley, Abbotsfield, Cambridge and Shaker which will be sure to cater for any taste or room type. We also sell glazed and fire door variants.
All our oak engineered interior doors are manufactured and built to last using top quality veneers and lippings.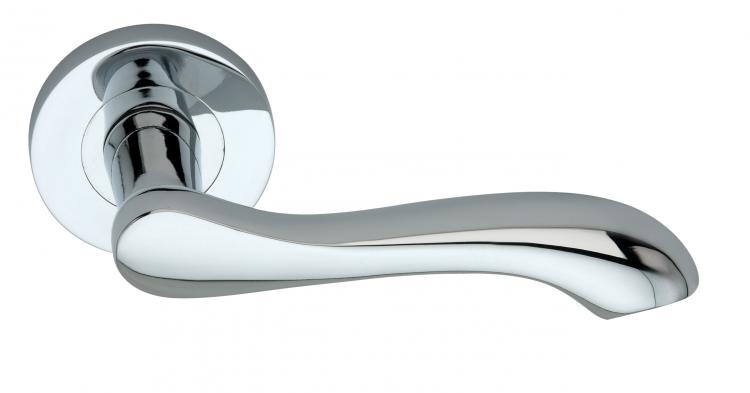 10. Door Furniture
A new addition in 2019, we are committed to supplying some of the best quality door furniture to customers all over mainland U.K. We stock a vast range of traditional and contemporary ironmongery products for all tastes including door handles, knobs, hooks, plates, knockers, stoppers, keyholes and letter plates.
Feel free to have a browse through our Door Furniture range of products and add your chosen parts to your basket; simply checkout and we will have your products delivered right to your door.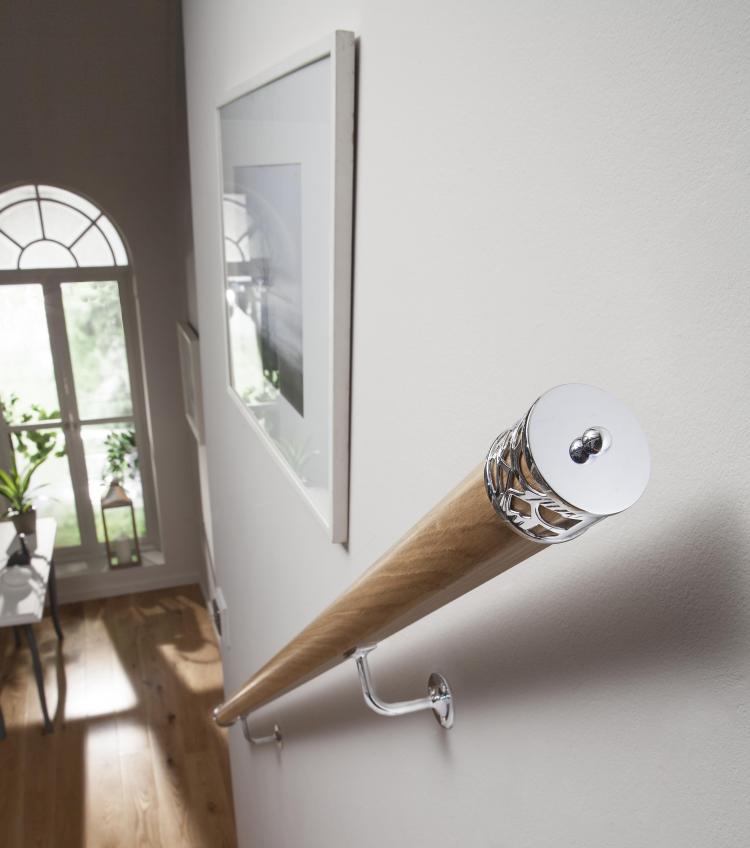 11. Wall Mounted Handrails
Wall Mounted Handrails have become more and more popular over the years due to the elegant designs and ease of installation. Blueprint Joinery offer a stylish range of Solid Timber Handrails in a choice of pre-finished pine and oak or white primed, ready for you to paint or stain. Complete the look of your handrail with end caps and brackets in black, brass or chrome effect finishes, and choose from short, medium or filagree end cap styles to add a contemporary or detailed finishing touch.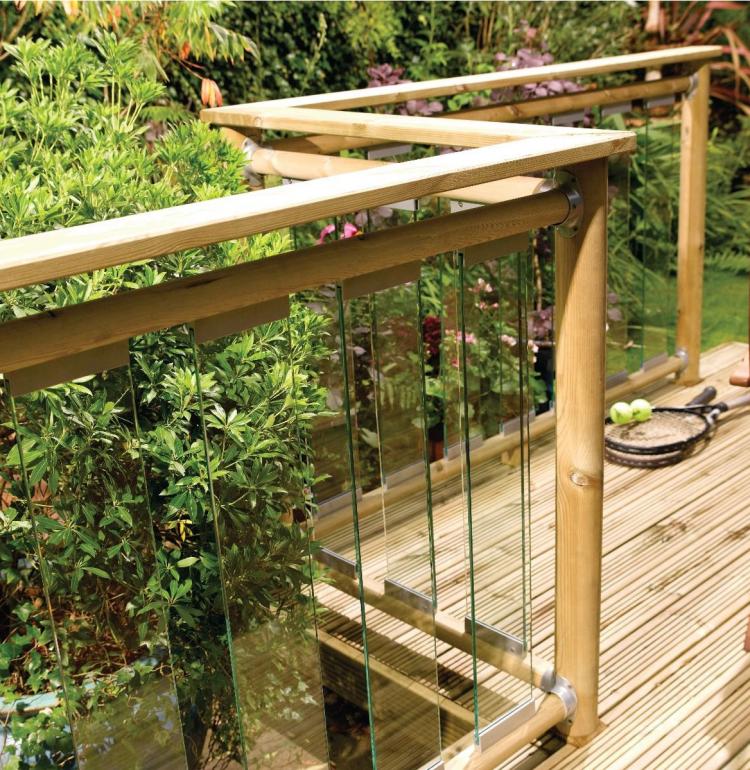 12. Wood and Metal Decking Systems
With the winter months well and truly upon us, you will be surprised to know there is no better time to install a new or renovate your existing wood or metal decking.
It will be much easier to find contractors this time of the year
It gives your garden time to recover from the footfall of workers
Air humidity is much lower in the winter; this will allow the wood to dry more evenly and ensure better quality decking in the long-run.
If you are looking to give your garden the wow-factor with an appealing feature that is as functional as it is easy on the eye, then our range of decking systems might be just what you need.
Here at Blueprint Joinery, we stock a wide range of both traditional and modern designs – including Clearview Glass Decking – in a choice of timbers to ensure that our customers get a tailored and bespoke package that is perfect for their needs and requirements.
For more information on the wood and metal decking systems, we stock, be sure to head over to the decking systems category page here.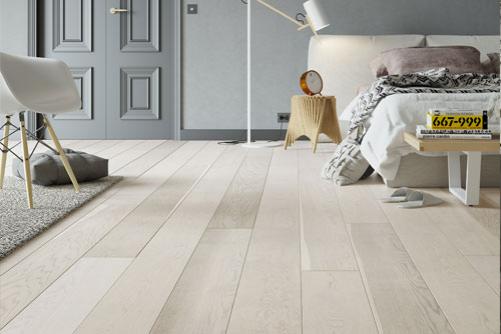 13. Solid Oak, Engineered Oak and Laminate Oak Flooring
Updating your existing flooring is one of the quickest and easiest ways to give a room a new lease of life. However, with the vast range of options out there, it can be intimidating trying to select the right one for you and your budget. Flooring has been popular this year, especially engineered oak floor and laminate oak flooring. Below is a break down of the differences between solid oak, engineered oak and laminate floorings to help you make the right choice:
Laminate is the most affordable option, and the most versatile. Due to the nature of the product, a greater variety of styles can be printed on the surface, making it easier for you to find the right style for your home. It is incredibly low maintenance and easy to take care of, all you will need to do is sweep, vacuum and occasionally damp mop to keep it looking its best. It is ideal for those who enjoy a DIY challenge or want to save additional money on installation, as the 2G/5G click installation is far easier.
Engineered oak is a 3-layer 100% wood construction board, with a surface layer of genuine oak which gives it the authentic style of true hardwood flooring, without the cost. Most are easy to install yourself thanks to the 2G/5G installation. 5G installation can be up to 25% quicker than other systems – Herringbone styles can be a little more complicated. There is a wide range of oak colourings and styles to choose from, but all are sophisticated and stylish additions to your home.
Solid oak flooring is constructed from a solid piece of oak and is built to last. A true solid oak flooring is a genuine investment in your home and can last for generations if well maintained — the most expensive of the three types of flooring, but also the most attractive and long-lasting.
From all of us at Blueprint Joinery, have a Happy New Year!