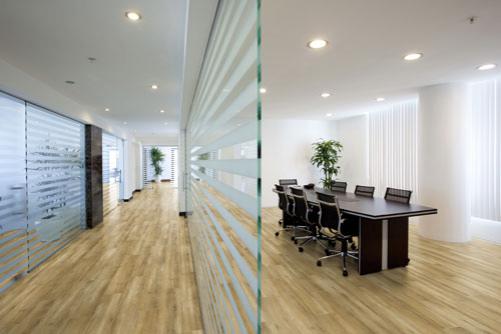 Despite its critics, laminate wood floors are becoming more and more popular; and it's no wonder, they're less expensive than hardwood or tile, but still able to tick all the right boxes that come with picking a new floor for your home.
Laminate flooring was first invented in 1977 by the Swedish company Perstorp, and even though you might be wrinkling your nose at the thought of laminate wood flooring, it's safe to say it's come a long way since the first iterations that looked unnatural, cheap and were annoyingly tricky to install. Skip to today, a laminate can closely replicate most types of wood, colour and grade - some of which very delicate, rare woods that would normally be too fragile for everyday use. With unlimited choices, high durability and lower upfront costs (compared to solid hardwood and engineered hardwood materials) make laminate flooring an attractive choice for people who want strikingly unique and authentic looks in their homes.
We stock 6mm wood laminate, 7mm wood laminate, 8mm wood laminate and 12mm wood laminate in 15 different colours and wood types. All you need to know about laminate wood flooring can be found below:
How is laminate wood flooring made?
The laminate wood floor is made up of 4 different layers, each layer playing a pivotal part in its overall construction:
1st Layer - This is the balancing layer. Typically made from

melamine, plastic or paper. This layer protects

higher layers from moisture and helps with the floorboards stability and sturdiness
2nd Layer - This is the core board. Made from either MDF or HDF (medium/high-density fibreboard). This layer serves as the core providing both stability and moisture resistance
3rd Layer - A photographic, decorative layer which gives the floor its realistic look. This process has grown in sophistication over the years making a laminate floor almost a copy from the material that it is trying to emulate
4th Layer - Usually consisting of a melamine resin or/and aluminium oxide clear coat, this protects the decorative layer from the hustle and bustle of daily life.
Firstly, the 4 layers of raw material are stacked upon one another in large sheets on a production line. Modern technology in laminate floor manufacturing such as calibrating equipment and digital camera systems ensure each layer is stacked 100% precisely on top of one another. Next, machines are used to apply a large amount of pressure and heat (200°C+) onto the stacked materials which bonds the layers together. Finally, the freshly created laminate flooring is left to cool down. Once the flooring reaches room temperature and acclimatises to the natural environment, it can be cut into individual planks and the edges sawed to provide tongue and groove edges which make the flooring easier to fit when installing. Once approved, the planks are then packaged ready to be purchased by the consumer.
There are 4 different thicknesses of laminate flooring that we stock here at Blueprint; 6 millimetres, 8mm, 10mm and 12mm. The thicker the flooring, the higher the durability and cost.
For more specific information or help regarding our laminate floor products, please don't hesitate to get in touch with a member of our expert sales team on 01691 671020 for further assistance.
Is laminate wood flooring easy to fit?
Installing laminate flooring doesn't have to be difficult. Check out our helpful pointers and YouTube video below:
Before purchasing laminate flooring, it is important to find out how many laminate boards you'll need to cover the floor you're renovating. To make planning a floor renovation easier, we offer a flooring calculator on all our product pages which automatically calculate how much flooring you'll need.

We recommend that, prior to installation, you allow your new laminate floor to acclimatise in the room where it is going to be installed. This helps to stabilise its moisture levels preventing any unexpected changes in size which might ruin the look of your new floor. If you are unsure or want to know more about any of the points raised in this article, please get in touch with a member of our expert sales team who will be able to help you with your questions.
Preparation of the subfloor is next. Firstly, ensure that it is level. Laminate flooring can be installed directly over plywood, concrete and tile, but not carpet; this must be removed beforehand. Depending on the type of subfloor you have will help decide what type of underlay you'll need. If you're installing over a concrete or tile subfloor you'll need to use a damp proof membrane (DPM) and ensure all joints are taped with vapour barrier tape. If it's a wooden subfloor, a foam underlay will be best suited. For installation over underfloor heating, we recommend a good quality thermal underlay that will distribute heat evenly across the surface and prevent heat penetration into the subfloor where it will be wasted. Blueprint Joinery always recommends that you should follow the manufacturer's guidelines when choosing underlay as every floor will be different.
With the underlay firmly in place, you can start to lay your laminate floor. All our 7mm, 8mm and 12mm laminate oak flooring come with a 5G Clic-System. This makes installing a laminate floor child's play and up to 50% faster: A fingertip is enough to join panels - simply unpack, lay, snap together and you are done. No effort involved - your hammer and block can stay in the toolbox.
Fix skirting to the edges of the room.
Tip: If you are planning to install laminate flooring yourself, to give your flooring the best possible finish, we recommend that you refrain from applying too much force when clicking the planks into place (tongue and groove click system can easily damage), avoid placing planks with identical wood grain next to one another, and stagger the seams.
How to clean laminate wood flooring
The challenges that come with any floor is how to maintain longevity and keep it looking clean. One of the massive advantages of a laminate floor is that it's easy to clean. In most cases, cleaning regularly with a dry mop is all you'll need to do, but warm water or mild cleaners specially designed for laminate can also be used. Here are some basic materials you'll want to add to your cleaning arsenal:
Dry mop
Hoover with a soft brush attachment
Lukewarm water
Laminate floor cleaner.
Tip: You can make your own mild laminate floor cleaner by mixing water and vinegar in equal parts. We can't stress enough that wood cleaner or polish is a no-no; it will dull the finish and create a very slippy walking surface which will be dangerous to all that traverse it.
Start by dry mopping the floor thoroughly. Use a hoover to suck up all loose bits; usually near the edges or in the seams that dry mopping can't pick up. Then, use a wet mop. Always have some laminate floor cleaner in a spray bottle handy for stubborn stains that a wet mop was unable to remove. Cleaning laminate is as easy as that!
Why laminate wood flooring?
Laminate flooring provides all kinds of advantages and benefits. Not sure if laminate is right for you? These top benefits of laminate flooring may help you decide if the advantages are right for your needs:
1 - Value for money
Laminate flooring is comparatively less expensive than solid hardwood or engineered hardwood oak flooring; that's not to say the materials used are not engineered to give lasting durability and strength. With its durable nature, low maintenance requirement and high resistance to scratches, stains and fades mean you will save money in the long-run also.
2 - Highly durable
Laminate is a strong, scratch resistant, and highly durable flooring surface. Protected by aluminium oxide or melamine resin clear coating, laminate has been engineered with busy households and pets in mind. All our laminate oak flooring come with a guarantee depending on its thickness:
| | |
| --- | --- |
| Thickness | Guarantee |
| 6mm Laminate Oak Flooring | 6 years (private use) |
| 7mm Laminate Oak Flooring | 20 years (private use) |
| 8mm Laminate Oak Flooring | 25 years |
| 12mm Laminate Oak Flooring | 30 years |
3 - Infinite choices of both colours and textures
One of the best benefits of laminate flooring is that its sold in a variety of attractive styles including wood, tile and stone. It doesn't stop there; all of these are available in different colours, surface finishes and plank styles meaning there is something for everyone.
4 - Installation is quick and easy
Laminate is by far one of the easiest flooring types to install; suitable for any level of DIY'er. This is down to the fact the boards are designed in a way that allows them to snap together using the clever 5G Clic-System making laminate easy to work with.
5 - Easy to clean
For a busy household, cleaning is the last thing you want to worry about. Laminate flooring makes cleaning spillages a breeze.
6 - Hypoallergenic
If you or/and your kids have allergies or asthma, laminate flooring is a great choice as it provides a hard surface that is easy to clean and doesn't harbour dust or dander.
Tip: Please contact a member of our expert sales team on 01691 671020 if you suffer from allergies or asthma. They will be able to recommend a floor that will best suit your needs.
We hope that you found this article helpful, but if you'd like more specific advice for your floor project, don't hesitate to get in touch with a member of our expert sales team who will be able to assist you further. All our contact details can be found on this page, or if you live near to/passing by Oswestry, why not pop by our workshop at Unit 10, Radfords Field Industrial Estate, Maesbury Road, SY10 8RA where you can talk to us in person.