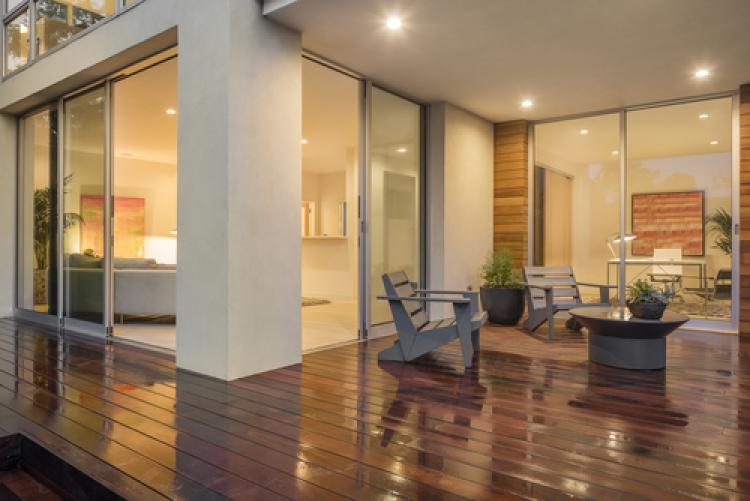 Although Christmas is just a few days away, people will soon be sick of the cold and longing for summer – because we all know that sunshine holidays are just what is needed to chase away those winter chills. However, for many homeowners, the idea of spending quality time in their own garden is just as exciting!
That being said, long, hot summer nights, picnics, family BBQs out on your glass decking, and seaside summer fun seem like a really long way away, especially when it makes for such a big contrast with the cold, grey dullness of January.
So how can you beat the January Blues this year? Get ahead of the pack and begin your home improvements early in 2017 to make sure that your home is shipshape for the summer. And what better place to start than with investing in some brand new decking?
Glass Decking will Transform your Outdoor Space
Transform both your home and your garden in one fell swoop, and allow Blueprint Joinery to help you to recognise your home improvement vision. You may not be feeling much like working in your garden at the moment - especially with the dull winter weather - but now is actually the perfect time to get organised and start to plan your home improvements for the year ahead.
Decking is an ideal addition to any garden. So whether you simply want to update your existing decking with a refreshed new look, or you are wanting to add a brand new decking to your home straight from scratch, here at Blueprint Joinery, we are here to help you.
The modern, stylish choice
For the optimum impact, choose a modern, stylish decking that will reflect your status while still looking great. Plus, with a glass decking, you will be able to view the entirety of your garden from the comfort of your outdoor deck seating, meaning that all of your hard work in the garden won't go to waste and can be fully enjoyed at all times!
Our unique combination of glass and wood will create an interesting talking point for your guests. When joined together to create your deck, the two work in perfect harmony. The ideal combination of sleek modernity and traditional familiarity, our decking is the best of both worlds and is sure to appeal to any taste or personal preferences.
You also won't be disappointed by the high quality, sturdiness and reliability of our decking. And, even better, with Blueprint Joinery, you get all the benefits of the very best quality materials and installation, at an affordable price which won't break the bank.
Complete your garden with a wood and glass decking from Blueprint Joinery, and prepare for a great summer of outdoor fun to come!
From all of us here at Blueprint - we wish you a very Merry Christmas!