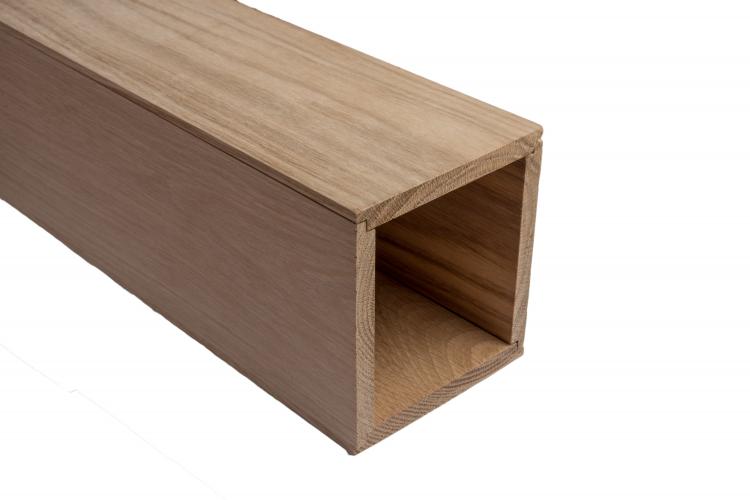 Give your old Newel Posts a brand-new look with our high-quality Solid Oak Stair Newel Post Cladding. This Cladding Kit provides the perfect, seamless finish to your Newel Posts. When finished, this Cladding looks stunning with new timber, glass, or metal balustrade. Available to fit a variety of different sizes of Newel Post up to 90mm x 90mm x 2100mm.
Click here for more information and to buy the product.
How Much Is Newel Post Cladding to Buy?
We offer one of the most competitive prices on the Internet currently for Newel Post Cladding. We stock single lengths of 2100mm Solid Oak Cladding for Newel Posts for just £35. For example, if your existing Newel Post length measures 2100mm, you will need 4 Oak Cladding Planks to complete the project.
How to Fit Newel Post Cladding
Shows how Newel Post Cladding is assembled (refer to image 1). It has an internal size of 90mm x 90mm with 110mm x 110mm external size and suitable for Newel Posts up to 2.1m long.
Measure section size of existing Newel Post and the length.
To build the Newel Post section up to 90mm, cut 4 x packing pieces of equal thickness using suitable material. Glue and pin.

As the Newel Post Cladding is assembled staggered (refer to image 1), to mark out for string and tread profile, place 2 x pieces of Cladding together and offer to Newel Post as shown. Mark position of string and tread profile.
With all Cladding pieces cut and checked for fit, glue and pin to Newel Post following the order highlighted in the image 5. Don't forget to punch pin heads below surface, apply wood filler and then sand smooth.
Apply adhesive to top of Cladding Newel Post. Offer Cap rebate on to top of Newel Post and press down as shown in the image.

How Easy Is Oak Stair Cladding to Fit?
We would put fitting Oak Newel Cladding in the "Competent DIY'er" category. If you can measure, mark, and use a saw accurately then the job of converting your existing Newel Post should be a simple task to achieve.
If you have any questions or need advice please contact our sales office on (01691) 671020 or email info@blueprintjoinery.co.uk