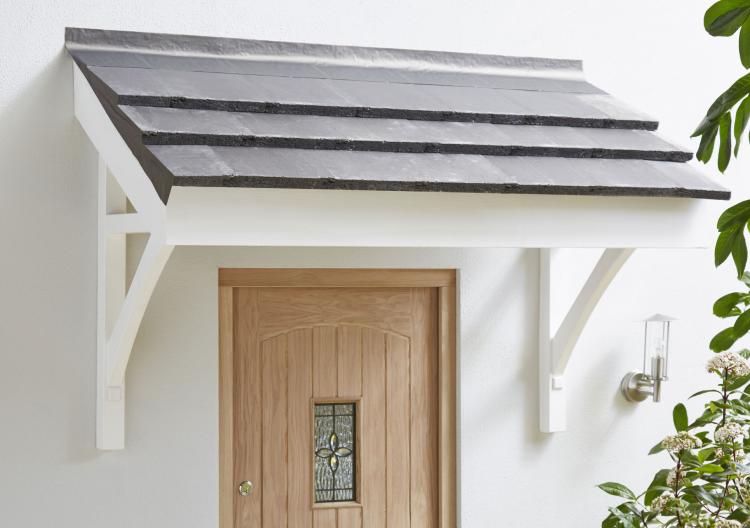 Anyone that lives in the UK knows the sort of weather conditions the autumn and winter brings to our doorsteps. There is nothing worse than the feeling of cold, rain and wind when you stop to get your keys out or put your shopping bags down to open the door. A door canopy is relatively cheap to buy, easy to fit, does not require planning permission (as it's considered a permitted development) and could be the ideal solution to your problems. There are several other benefits to having a porch installed also. This article looks at the 4 key advantages of a door canopy below:
1 – That much-needed shelter on a wintry day
By far the most popular reason for installing a porch canopy. Both you and your visitors will no longer need to stand exposed to the elements whilst waiting to get in the warmth. A light installed to the underneath of the canopy means you will be able to find your keys and door lock easily on a dark night and recognise people you would usually not be able to see that are knocking on your door. This adds to your overall safety and home security.
2 – Increases your homes 'curb appeal'
A porch canopy can help make the exterior of your home look more attractive to visitors and passers-by. If you ever decide to sell your home, most buyers decide whether they are interested in your property or not before even getting out of their car – simply based on how the exterior looks. First impressions are important, and as the saying goes, you only get one opportunity to make one. Not only will installing a door canopy give your home an extra touch of style, but it will also show buyers your property has been well cared for.
3 – Helps to protect the exterior of your home
A front door canopy will protect your front door from sunlight, rainfall and snowfall in the colder months of the year. Over time, a porch canopy will help to protect the exterior of your property from the elements and will slow the rate at which your door, brickwork and outside ornaments degrade.
4 – Outside storage
A door canopy increases the usable space in your garden by offering shelter from the sun, rain and snow. It gives you an ideal area to store your muddy, wet wellies whilst you wait for them to dry, or store your umbrella in the horrible weather.
As you can see, there are many benefits to having a door porch installed. Here at Blueprint Joinery, we stock a wide range of wooden porches including apex and flat roof styles. Homeowners can add further style to their porches with optional turned porch side kits and porch finials which we also have in stock. Any porch components stocked by us are delivered pre-drilled, ready to varnish or paint to your own personal taste. All our porches are created by Cheshire Mouldings, a leading woodworking manufacturer in the UK with over 20 years of experience. High-quality timber guaranteed with all porches, allowing your porch to last for years to come. In addition to this, porches are tested by an independent structural engineer. You can find all our porch canopy range here on our website.