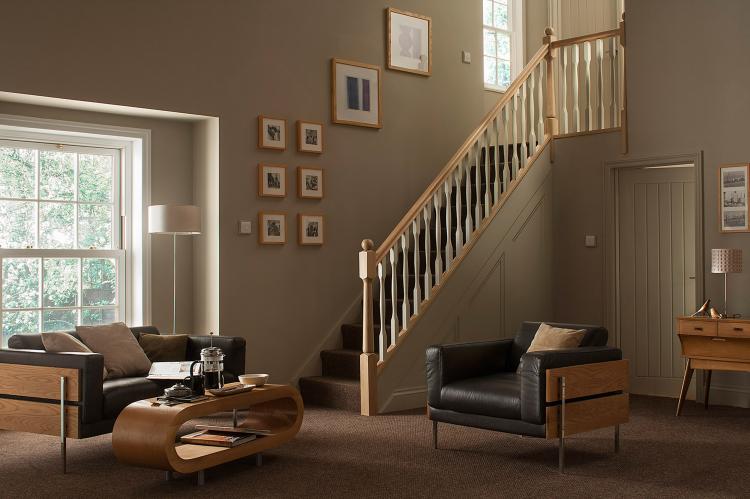 A number of questions start to flash through your mind once you're set on sprucing up those stair spindles with a lick of paint such as, "Do I have the mental fortitude to complete such a time consuming task?" or, "Can I do this without managing to cover the whole staircase in paint?" and, "Am I insane?"
Well, the answer to the first two questions is yes and the third question is no, you're not insane, painting your stair spindles is not only something you can do yourself, its a task that might be easier than you first thought. At its core, painting stair spindles can be broken into 4 parts:
Sanding Down
Cleaning
Applying primer
Painting.
It's entirely up to you if you'd like to chant these steps as a kind of mantra as you work, it could give you extra encouragement to push through (or potentially drive you more insane, it's really 50/50).
How long does it take to paint stair spindles?
In an article by In My Own Style, it took them approximately 8 hours spanned over 4 days.
2 hours to tape the areas around the spindles to protect the rest of the balustrade from accidental paint drops
The spindles needed 3 coats in total (depending on colour, your spindles might need less).

The first coat took

3 hour, the second coat took about two hours and the last coat only an hour since all that was needed was a touch up.
How much does it cost?
The cost of painting your stair spindles will depend primarily on how many spindles you need to paint. Typically, for primer, paint and all the equipment listed below, you can buy everything for under £50.
What equipment do I need?
Sandpaper (100 and 220 grit)
Hot soapy water and a rag
Painters tape
A variety of small and large brushes (or a sock, check our painting hack at the bottom of this article)
Primer
Quick dry paint.
How do I paint stair spindles?
Sanding down - Sanding will remove any old gloss or protective lacquers from the spindles, providing the perfect surface to apply the new paint for a great finish. Use fine sandpaper for this and remember to remove any carpet from the stairs first and place a sheet on the floor below to catch the dust.
Cleaning - Nice and easy. Just get a damp cloth and wipe down those spindles to remove any dust and dirt that's still on there so you're not painting over them once you start. It's also good at this point to give the whole staircase a quick vacuum so you've got a nice, clean environment to work from.
Applying Primer - Adding a primer before painting is very important (so don't skip this bit!) as it'll seal up those wooden spindles. This means that when you come to paint the spindles the paint won't soak into them and you'll need fewer coats of paint. A good primer also helps enhance the overall finish. Pop some painters tape around the top and bottom of the spindle and use a small detail brush to apply the primer to these parts. This will stop you sloshing primer all over the underside of your banister and stairs. Then for the rest of the spindle you can use a larger paintbrush.
Painting - Remember, don't start painting until the primer coat is completely dry! While different types of primer take different times to dry, you're probably safest leaving at least 24 hours before applying your paint.
When you're ready, use the same method to paint as you did with the primer; a detail brush for the tops and bottoms and a medium or large brush for the rest. Take care to use thin coats of paint and don't overload the brush, this will stop blobs of paint dripping down the spindle and pooling at the bottom.
Top Hack

- Painting stair spindles with a sock

Believe it or not, a fast and effective way to paint your stair spindles is to use an old sock. We recommend that you firstly cover and protect your hand with a plastic sandwich bag, and then put the sock over the bag. Dip your hand into the paint and apply it to all areas, making sure not to miss any of the nooks and crannies.

After letting the paint dry for about 6-8 hours you're ready for the second coat. You can also very gently sand the spindle again before applying the second coat for that super smooth finish.

There you have it, a simple (if time consuming) task. Just remember to keep chanting that mantra and you'll have gorgeous stair spindles in no time.