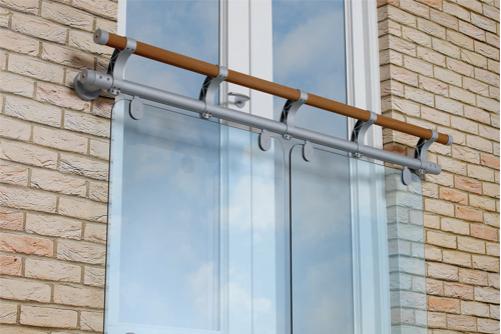 The UK has experienced some scorching temperatures in recent weeks. It's averaged 20.9C (69.6F) across the country between June 1st and July 16th 2018, which is just short of the countries 21C (69.8F) temperature record which happened back in the summer of 1976. With summer in full swing, we've seen an increased number of people buying Juliet balconies here at Blueprint Joinery. Whether it's a bedroom that could benefit from a more open feel or a home that suits a more stately touch, the Juliet balcony is a great way to add light and create a more airy and spacious feel in any room. But what is a Juliet balcony exactly?
A Juliet balcony (or balconette) is a false balcony where doors or large floor-to-ceiling windows open onto a railing outside. Unlike that of a typical balcony that you can walk onto, a Juliet balcony is a balcony which does not project from the side of a building. They certainly make for a beautiful design feature, but what else can they bring to the interior and exterior of your home:
1 – Cost-effective
As summers are becoming progressively hotter here in the UK, we're finding that people are increasingly opting for a Juliet balcony. Unlike that of a walk-on balcony, a Juliet balcony doesn't usually require planning permission (more information on planning permission can be found below) or having to get an architect involved to plan. This makes a balconette quick, cheap and easy to install.
2 – Great for letting light and air into a room
Whilst a Juliet balcony does not necessarily expand the floor space of your property, it can help change the dynamic of an existing space completely. You'll find that in comparison with normal windows, using a balconette will fill your room with even more light, making your interior space feel much larger and more pleasant. When the doors are open the outside air floods in it effectively transforming the room into an enclosed balcony, ideal for the warmer days we're currently experiencing.
3 – Suitable for rooms where a normal balcony is not possible
Juliet balconies remind me of a common architectural feature you'll find whilst walking down narrow streets in Italy and Spain. They're designed to give the appearance of a full balcony in locations where it may not be possible or suitable to install a larger feature.
4 - Adds to your homes 'curb appeal'
Juliet balconies add value to your home, without requiring a large upfront cost. Not only that, but Juliet balconies greatly enhance the way one's home looks when viewed from the outside, substantially adding to its 'curb appeal'. They offer an easy way to add visual interest to a plain home which might not otherwise capture the fascination of buyers, allowing you to sell your home for thousands of pounds more than you would be able to otherwise.

Richard Burbidge FUSION® Juliette Balcony System.
One of the questions we frequently get asked here at Blueprint is whether you require planning permission for a Juliet balcony or not. The answer usually is no; a Juliet balcony is not a traditional balcony so planning regulations are more lenient. As you're not building an external platform for the balcony, very little alteration is taking place to your property. We recommend that if you're unsure, it's always safe to give your local planning officer a quick call before committing to any purchase.