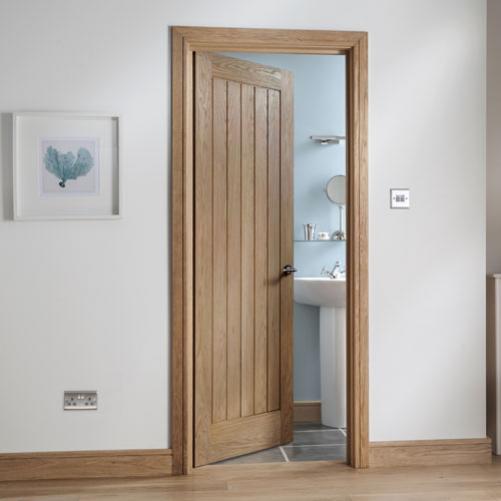 At Blueprint Joinery, we take internal fire doors and your safety very seriously. Thankfully, fire doors don't have to look functionally boring, as part of our new internal door range 2018, we offer an FD30 fire door variant in Modernus 5 Panel, Shaker 4 Panel, Abbotsfield and Cheshire 4 Panel ranges. Internal oak fire doors share the same exact style as their regular version except that they have a 44mm thickness instead of 35mm. Internal fire doors consist of a solid-core construction made up of particleboard, chipboard and/or solid wood timber. Another important part is the intumescent seal which is situated around the edges of the door. The main function of the seal is to expand when temperatures reach beyond 200°C.
Internal fire doors play a fundamental role in fire safety as they block the spread of fire and smoke for a limited amount of time while they are closed, yet can also be used to mark fire exits so that you can ensure that you will be protected in any scenario you may find yourself in. Fire doors not only offer a safe solution to protect you and your family in the event of a fire, but also the well-being of your home and its contents. With a correctly installed fire door, you can limit the amount of fire and smoke spread allowing emergency services to tackle a well-contained blaze which might otherwise spread to other parts of your home.
Blueprint Joinery internal fire doors are created with the aim to provide a fire safe environment as well as keeping the decorative process at the forefront of their design. They keep your personal needs in mind so that you can be sure you will find the perfect internal fire door for your property to save yourself and your belongings, while never compromising on style. All our internal fire doors are delivered unfinished which means that you can either paint or varnish them so that they fit into your home's interior style easily.
For more specific information or help regarding our fire door products, please don't hesitate to get in touch with a member of our expert sales team on 01691 671020 for further assistance.
What do FD Ratings mean?
When you're choosing a door it's important to know what the different specifications mean. The FD code shows how many minutes of fire a door can withstand, for example, an FD60 has been tested to withstand 60 minutes of fire. To determine the FD rating, the manufacturers have their fire doors assessed by subjecting them to a test procedure as specified in BS 476-22:1987 or BS EN 1634-1:2014. The door is always tested as a complete fire door set; i.e. the fire door and door frame with all the requisite hardware (e.g. locks, latches, hinges, etc). The overall aim of the test is to see how long a door can last when subjected to a fire. The most common ratings are FD30 (fire doors which last at least 30 minutes) and FD60 (those that last for 60 minutes). All the internal fire doors we stock at Blueprint Joinery are FD30 rated.
An example of the importance of fire doors, as demonstrated by the British Woodworking Federation under the BWF CERTIFIRE Fire Door and Fire Doorset scheme, can be found below:
Internal Fire Door Installation
In a private property such as your home, it is advised to install internal fire doors where the risk of a fire is the highest. This includes the kitchen, living room and rooms that may contain a high amount of electrical devices and gadgets.
NOTE: If you're unsure whether fire doors are a legal requirement by law, please get in touch with your local council who will be able to assist you further.
In commercial or non-domestic properties, the liability lies with whoever is deemed the 'responsible person' for that property. For example, the owner of the property, the employer or the person in control of the property for trade reasons.
Thorough risk assessments must be carried out and it is advisable to get professional help with all your fire-related regulations and safety protocol.
Internal Fire Door Maintenance
It is important that internal fire doors are regularly inspected and maintained. This section will look at highlighting some of the main aspects of internal fire door maintenance that you should keep in check.
Opening and closing the door
Doors fitted with hold open devices or swing free type closers should be closed when not in use or when there is likely to be a low building occupancy. It is important that a fire door is able to close effectively, in the event of a fire, a closed door will help contain a fire, an open one won't. There are several reasons why a fire door may fail to close:
The smoke seals may be incorrectly fitted or damaged
Objects may be obstructing the door
If a latch is fitted, it may be damaged, malfunctioning or require lubrication
The closing mechanism may need adjusting.
Intumescent seals
The doors intumescent seals should be checked regularly; damaged or missing seals should be replaced. It's important that the replacement seals are of the same specification, size and type as the original.
Hinges, locks, latches, closers, floor springs...
The mechanical aspect of the door including hinges, latches, closers and floor springs are likely to wear and damage over time and frequent use. Hinges, locks and latches may require occasional lubrication.
Note: Some hinges use self-lubricating bearings that will not need additional lubrication.
In the event that worn hardware on a fire door needs completely replacing, items should be carefully removed and replaced with products of the same specification as the original where they've been proven effective for use in fire rated doorsets.
5 Common Fire Door Faults – Prevent them from happening
Over 61% of internal fire doors had fire or smoke seals either missing, installed incorrectly or not filling perimeter gaps correctly
Over 1/3 had incorrect signage
More than 230 (34%) of the internal fire doors inspected has excessive gaps between the door and its frame (i.e. over 3mm)
Over 15% had noticeable damage to the door leaf
Almost 1 in 5 internal fire doors had unsuitable hinges.
The full article Top 5 Most Common Internal Fire Door Faults with more in-depth information can be found here on our blog.
For more specific information or help regarding our fire door products, please don't hesitate to get in touch with a member of our expert sales team on 01691 671020 for further assistance.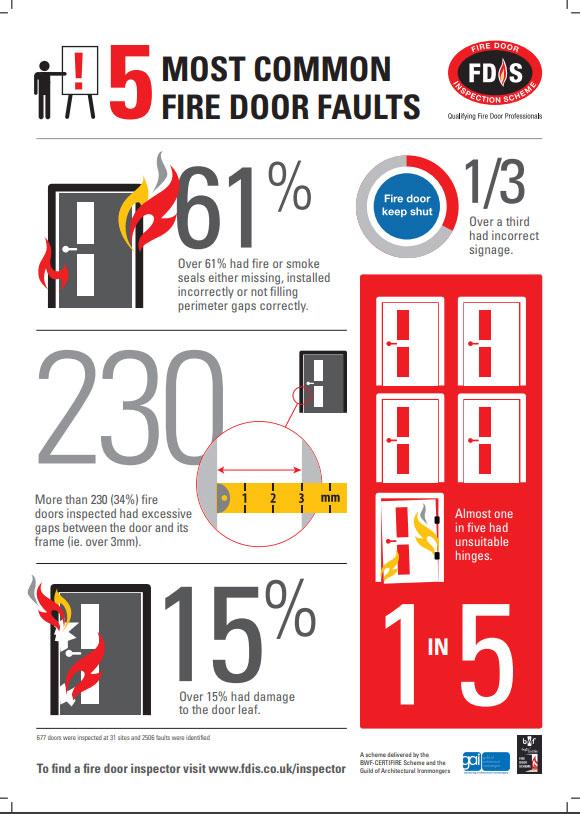 Planning a major home renovation or extension – Are Internal Fire Doors required?
If you're planning a major renovation or extension, your architect will be required to advise whether internal fire doors are needed. Building regulations stipulate that fire doors are required in the following areas in domestic properties:
A two-floor house that has a door leading from a garage into the home. A garage is deemed as a high-risk potential fire hazard. In the event of a fire, a fire door would give the occupants enough time to get out. Also, if the fire can be contained quick enough, this could save the contents of your home by preventing smoke/fire damage.
A three-floor+ house is required to have fire doors on every habitable room that's situated next to the stairwell.
For further information on fire doors and building regulations we recommend that you visit the BWF Fire Door Alliance website. The BWF-CERTIFIRE Fire Door and Doorset Scheme was established by a group of Prime Fire Door Manufacturers aiming to increase the standard of fire doors across the supply chain, the Scheme has now expanded to include not just the market leaders in fire door manufacturing, but also in converting fire doors, ironmongery, intumescent seals and glazing systems, and, more recently, merchants and installers.
Changing the internal doors within a domestic home – Are Internal Fire Doors a must?
If you're replacing standard internal doors then fire doors are not required. For your families safety and to protect the contents of your home, we always recommend internal fire doors regardless. It's important to consider the following if you're replacing standard internal doors for fire doors:
FD30 fire doors that we stock are 44mm thick, compared to our standard doors which are 35mm thick. If you're planning on using your existing door frames, you'll need to check whether it will house a 44mm thick door.
We recommend that you use an experienced joiner who knows how to fit a fire door correctly. If a fire door is fitted incorrectly, in the event of a fire, it will lose its effectiveness. Each fire door will come with documentation on the requirements that make it a FD30 or FD60 door such as the type and density of door frame, the correct intumescent strips and ironmongery that should be used. Without following these recommendations, there is no guarantee that your fire door will last the rated time.
For more specific information or help regarding our fire door products, please don't hesitate to get in touch with a member of our expert sales team on 01691 671020 for further assistance.