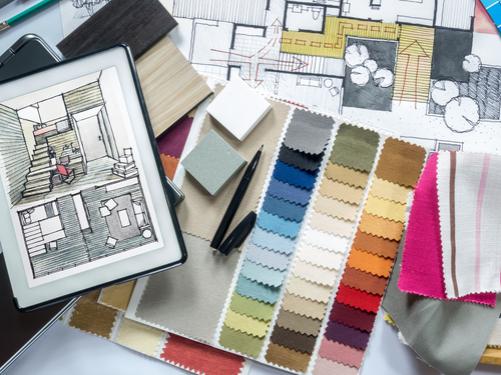 With the weather outside slowly improving day by day, our thoughts are now turning to the rest of the year - and now is the perfect opportunity to get your home ready for the seasons ahead!
Spring is just around the corner, but it can still be too cold to go outside without a hat and scarf at the ready. Here in the UK, any glimpse of good weather never seems to last too long, which is why having a home that we are proud of is a must.
A true home improvement enthusiast is nothing if not thorough, so while the weather outside is dreary, why not start in the heart of your home? Small touches here and there won't be too costly, but can make a world of difference to your home; we're talking a lick of paint here, and some stair cladding there - nothing too strenuous!
Flood Your Home with Light
With March now upon us, it's time to get excited at the prospect of leaving work during daylight hours, and the nights growing lighter by the day. After months of snuggling in a cosy living room, it's time to open up you home and let there be light!
One of the best ways to do this is to refresh your decor. A splash of paint can bring your ceilings and woodwork back to life in no time at all, really opening up your home. Switch out those dark cushions and curtains for something lighter and open your windows to really make the most of the days getting longer. Not only will your home feel rejuvenated, but you'll feel better for it, too. Win win!
Reap the Benefits
Another popular way of boosting the light in your home is to add a mirror to a wall opposite a window, making the room feel much bigger than it actually is. If you living space feels a little cramped with stairs in the corner, then we have a solution that might make you smile. Our Reflections range features glass panels and balustrades that really make your home feel bigger and brighter.
There are many many benefits of choosing glass balustrades for your home. The easy to clean glass is ideal for adding a touch of class, and will instantly make your home feel chic and stylish - without distracting from your current interior design. What's more, it's easier than ever before to install at your leisure, transforming your home in just a few hours.
LPD Doors for All
Whilst an open plan home is the dream for many, there are still plenty of people who prefer the traditional setup of functional spaces, complete with doors that can add a touch or privacy when needed.
Whether your interior doors have seen better days, or you are looking to modernise or reinvent your home, then we have a wide range of LPD doors that are suitable for all tastes and needs.
Sturdy, solid and built to last, there is an LPD door available in a range of styles and designs to guarantee your privacy while adding a contemporary feel to your home.
Here at Blueprint Joinery, we want your home to look as good as can be - no matter what the time of year. For more top tips and DIY advice, please have a browse of our blog. Want to know more about some of our products? Give our team a call on 01691 671020.