Are you a stair parts novice? With all the different terminology involved in staircase and balustrade construction, it can become a little overwhelming to anyone looking through our product range of staircases. This glossary of stair-related terminology details the most common terms used in staircase and balustrade construction. This will then help you choose the correct parts needed for your perfect staircase. We have split our terminology guide up into two seperate posts, please find the other one here.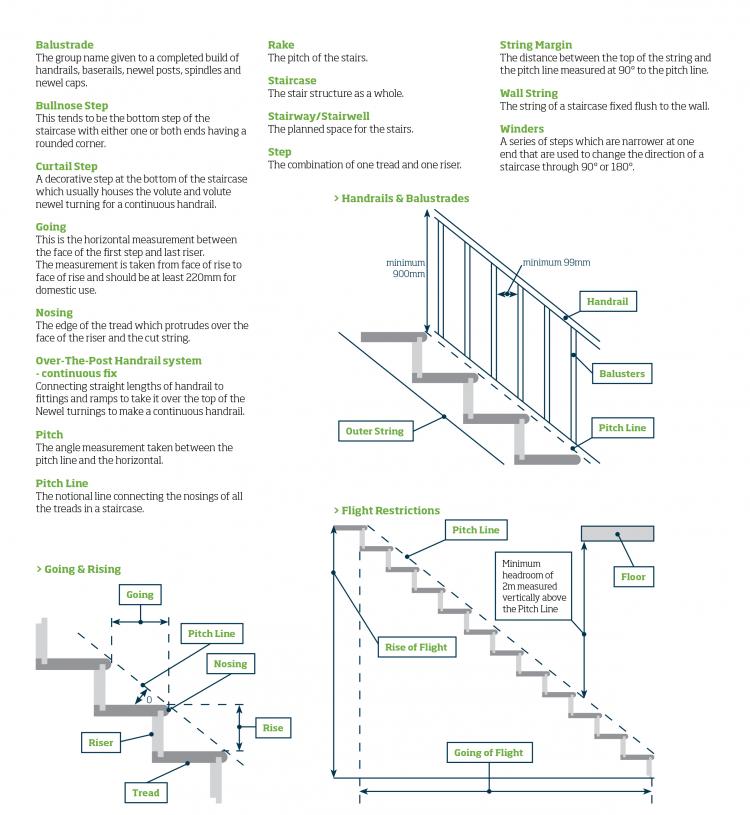 Balustrade
The group name given to a completed build of handrails, baserails, newel posts, spindles and newel caps. For more information on different types of balustrade, please refer to our buyers guide for metal stair spindles.
Bullnose Step
This tends to be the bottom step of the staircase with either one or both ends having a rounded corner.
Curtail Step
A decorative step at the bottom of the staircase which usually houses the volute and volute newel turning for a continuous handrail.
Going
This is the horizontal measurement between the face of the first step and the last riser. The measurement is taken from face of rise to face of rise and should be at least 220mm for domestic use.
Nosing
The edge of the tread which protrudes over the face of the riser and the cut string.
Over-The-Post Handrail system - continuous fix
Connecting straight lengths of handrail to fittings and ramps to take it over the top of the Newel turnings to make a continuous handrail.
Pitch
The angle measurement taken between the pitch line and the horizontal.
Pitch Line
The notional line connecting the nosings of all the treads in the staircase.
Rake
The pitch of the stairs.
Staircase
The stair structure as a whole.
Stairway/Stairwell
The planned space for the stairs.
Step
The combination of one tread and one riser.
String Margin
The distance between the top of the string and the pitch line measured at 90 degress to the pitch line.
Wall String
The string of a staircase fixed flush to the wall.
Winders
A series of steps which are narrower at one end that are used to change the direction of a staircase through 90 degrees or 180 degrees.
Part one of our terminology guide can be found here.